Wednesday, January 28th, 2015
Looking back it seems somewhat ridiculous really.  A piece of paper with a quick message and a signature on it. For years my grandmother and her twin sister attended the Duke Children's Golf Classic, which up until a few years back, was held in Durham,NC and raised money for Duke Children's Hospital.  Picture the Pebble Beach Pro-Am without the Pro golfers and big name A-list celebs.  A large majority of the players were ex-athletes of various professional sports.  They definitely brought some decent names to the tourney and by no means was it a small ordeal.  My grandmother had a few favorites that she looked forward to seeing each year, but there were two that stood out for her….Sonny Shroyer (Enos from Dukes of Hazzard) and Ernie Banks. She told me Ernie always had time for his fans. He would hang around and take a picture or sign an autograph and acted like it was his pleasure to do so. Prior to her mention of Ernie Banks, I wouldn't really say I was a Cub fan.  Growing up in southeast Detroit makes you a Tigers fan, and I loved the Tigers and still do.  However, to this day I blame Ernie Banks and my grandmother for making me a Cub fan too.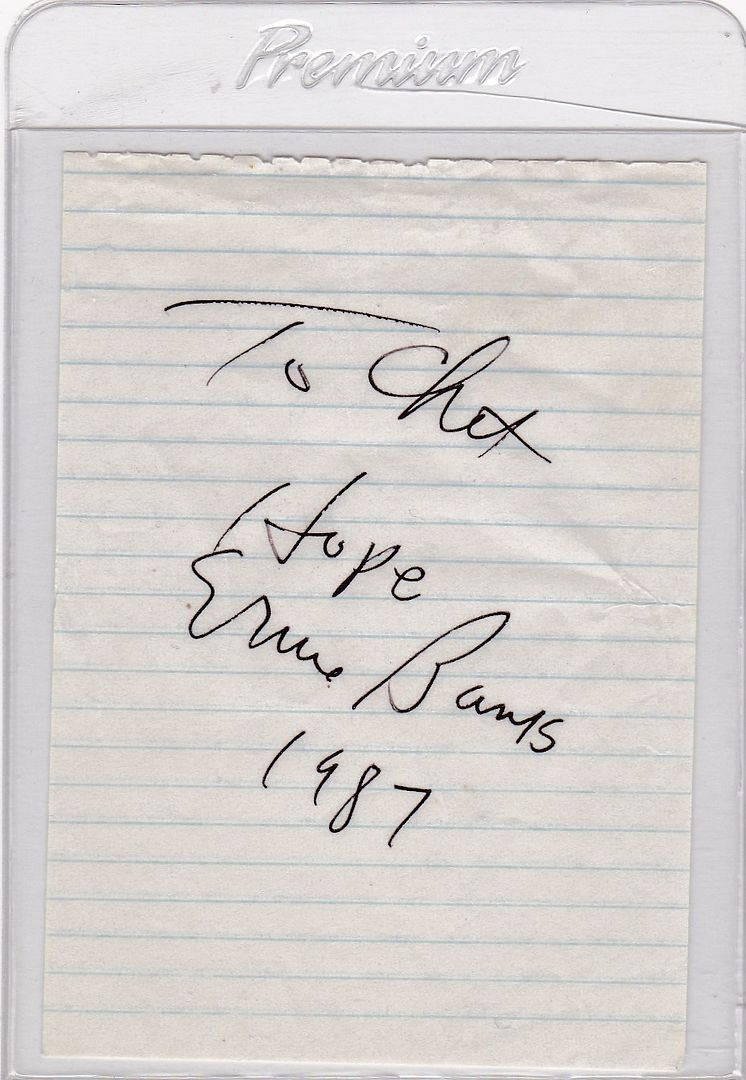 It sounds crazy but on my birthday in 1987 my grandmother handed me the little piece of paper you see attached to this post, one that I have kept ever since.  It instantaneously made me a fan of a team I would come to learn were known as "The Lovable Losers". I didn't start out a huge fan as I was for my Tigers, but a good fan from afar if you will. It is nutty the little things that can happen to make a 12 year old child find interest in a sports team.  A hat from an uncle, a mitt with a facsimile autograph in the palm, or a piece of paper with a signature.  Moving to Chicago some 10 years later would seal the deal for me. Sometimes, all it takes is a kind gesture from an athlete passed on by a grandmother, and a team gets a new fan.
Like what you see here? Never miss new content. Follow Us: