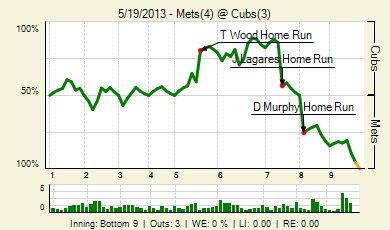 Star of the Game – Juan Lagares – .349 (WPA)
---
Travis Wood
You may have heard, Travis Wood has been really good in 2013 so far. I don't care if peripheral stats tell you it won't last (like there's anything that can be done about it one way or the other anyway). On Sunday he pitched his 9th quality start to begin the season. Enjoy it! The Cubs haven't had someone do that since Mordecai Brown in 1908. Not Greg Maddux. Not Fergie Jenkins. Not Rick Sutcliffe. Not Charlie Root. "The quality start is a meaningless stat" perhaps you'll say. I would largely agree-it's an arbitrary threshold-6 IP and 3 ER doesn't exactly get me excited. But Wood is averaging 6.2 IPs and less than 2 earned runs allowed per start. THAT gets me excited. And of course it's unlikely to last for 35 starts, but that'd be true of almost anyone not named Clayton Kershaw.
On Sunday, Wood was very good again. Wrigley wasn't exactly a pitcher's park in the series finale; evidenced by the fact that the Cubs' southpaw deposited a home run onto Waveland against the Mets. He gave the Cubs 7 IP, surrendered 3 ERs, but also contributed a 2-run HR of his own. It was the rest of the lineup that had difficulty against the Mets.
Middle Of The Order
Castro & Rizzo were the void in the Cubs' lineup. They were a combined 0-for-8 and 0-for-4 with RISP. Twice Castro hit a sacrifice fly with DeJesus standing on 2B, while Rizzo struck out 3 times. I'm not going to belabor the point, but the Cubs seem to have scattered success at the plate. With 4 doubles and 2 HRs the Cubs should've been able to cobble together a bit more than 3 runs.
Replay?
Part of the reason for that struggle to score was this play. Sweeney hit a sure double into the RF corner, former Cub Marlon Byrd horribly misplayed it at first and Sweeney understandably wanted to take advantage by turning it into a leadoff triple to start the 4th inning. Byrd recovered well, and the relay was on target, but even in real time it looked to be late.
Sweeney biggest problem was his awkward slide. But there's a time-tested practice of umpiring that says if the player is going in headfirst and gets tagged on the shoulder, he's probably safe. Third base umpire Manny Gonzalez would've done well trust 100+ years of umpiring. Instead he allowed his eyes to fool him. Whatever he thought he saw, he didn't; Sweeney was safe and the Mets announcers even thought it was a bad call before seeing a replay.
I don't understand why Sweeney and then Sveum (or even third base coach David Bell) had no argument. He's leading off the 4th inning of a scoreless game – certainly it's worth an argument? Instead no one protested and the Mets quickly retired the next two batters.
This is part of the game that's becoming increasingly obnoxious to me. The camerawork and technology of 20-30 years ago wouldn't have provided quick help in many situations. But today, a call such as this could've been overturned before Sweeney even got back to the dugout. MLB needs to find a way to expand and hasten the replay process.
And don't take this a complaint that the Cubs were somehow screwed out of a win against the Mets. Nothing with the Cubs is nearly that cut & dry (zero confidence they would've driven Sweeney in from third – less than zero confidence the bullpen would've held a lead that might've been given to them). Besides I do believe these bad breaks tend to even out over the course of 162 games. It's just an unnecessary detriment to the game; I don't want to see a guy trot around the bases if the ball went foul; I don't want to see a guy trot back to the dugout if he's safely slid into a base. What's your suggestion for instant replay changes in 2014?
Like what you see here? Never miss new content. Follow Us: