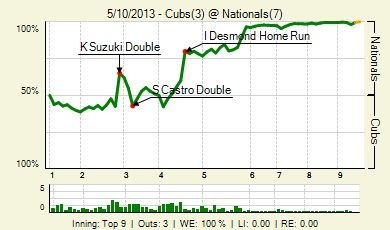 Star of the Game – Ian Desmond – .299 (WPA)
---
Jeff Samardzija
I'm talking about one thing, and one thing only from this game. I don't like what I'm seeing from Jeff Samardzija this year. He's become a combination of Rich Harden and Carlos Zambrano. He doubled in the 3rd and came around to score and tie the game; but then he couldn't really settle in for the fourth or fifth innings. Classic Zambrano. Five of the seven runs he gave up came with two outs, and while only 5 of his 7 runs were earned, the 2 unearned runs came as a direct result of a comebacker that he booted. It should've started a double play, instead the Cubs couldn't record an out on the play. After getting the 2nd out he gave up a two-run double.
Tonight Samardzija was more efficient than he's been recently, but he was also hit harder than he's been all season. It is the third time in 2013 he's given up 4 runs or more. And in his eight starts, only twice has he gone more than 6.0 innings. Classic Harden (so is the inefficiency with his pitch count). In fact, Friday night marked the second time that the Cubs' "ace" only went 5 innings. It's not that Samardzija has been horri-awful; it's that he hasn't been any better than scrap heap signings Scott Feldman or Carlos Villanueva (truthfully, he's not even pitching as good as they are). Travis Wood is the Cubs' ace through 6 weeks of baseball – but here's what is so troubling:
"Felt good. Felt about as best as I could all year," Samardzija said. "That's the frustrating part of it, when you've got your pitches and you feel good and you get that outcome."
So Friday night – by his own assessment – was Jeff Samardzija with his good stuff. His 'good stuff' gets battered around the park by a lineup that is missing a couple of its biggest bats? No Bryce Harper, no Jayson Werth – the Cubs had reason to feel good heading into the game. Even more so if Samardzija had his good stuff.
But the wheels came off early, and the Dread Pirate Jeff could never right the ship (that's how out of whack he was, the idioms don't even make sense).
There is a huge market for Jeff Samardzija at the moment. He could bring the Cubs a massive haul in a potential trade. And such a trade could be terribly risky for the Cubs to make – he could yet become a superstar. But such a trade could be terribly risky for the Cubs NOT to make – he's looking more and more like the right-handed Rich Hill. One fantastic year, everyone projects him as a front-of-the-rotation starter. Hill was 27 when he had his 'breakout' season too. Their numbers are eerily similar for those seasons (Hill in 2007, Samardzija in 2012); in 2008 though, Rich Hill got injured and by 2009 he was out of options and playing for the Baltimore Cubs.
I'm not saying it's time to trade Samardzija – but it's certainly time to stop listing him as an untouchable.
Like what you see here? Never miss new content. Follow Us: