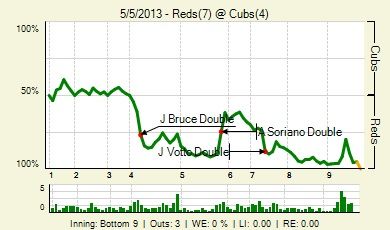 Star of the Game – Joey Votto – .188 (WPA)
---
Untimely Pitching
On Friday, Carlos Villanueva was tagged for 4 runs, even though he only surrendered 7 hits. Yesterday, Carlos Marmol coughed up 3 runs, even though he didn't give up a single hit. And on Sunday, Edwin Jackson let the Reds register 8 hits leading to 4 runs. The bullpen was even worse, Camp & Loe combined for 3 hits that produced 3 runs. The Reds took advantage of every Cubs' pitcher that struggled to get out of an inning all weekend.
Edwin Jackson was mediocre on Sunday, still when the 5th inning ended the Cubs trailed only 4-3; Shawn Camp made sure the Reds cushioned that lead. I've been saying for a week now that the Cubs need a bit of a roster shakeup with some of the poorly performing role players being kicked to the curb. Camp should be one of those cleaning out his locker. It's not that there's something in AAA or on the waiver wire so compelling as to merit immediate attention; but the team is stagnant and running Camp out there every other day or starting Sappelt and his impatience against LHPs is not going to yield any different results in the near future.
Losing To The Team That Made This Play
This is how bad the Cubs were this weekend; you can make this play and still expect to beat the Cubs.
Ian Stewart
In case you were wondering, Ian Stewart is still a Cub and might be for some time yet. He was optioned to AAA (even though he's been there on rehab). The team could've outrighted Stewart to AAA – forcing him to choose between electing immediate free agency or accepting the assignment. If he'd elected free agency, they Cubs would've no longer been responsible for his 2013 contract. Why didn't they do this? Who knows – the new regime has some weird obsession with Stewart. It's still possible that later this year they'll choose to outright Stewart and force his decision; but why not now? We may never know.
Like what you see here? Never miss new content. Follow Us: