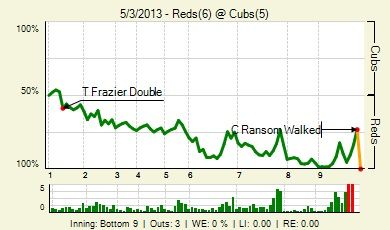 Star of the Game – J.J. Hoover – .268 (WPA)
---
Untimely Hitting
One day after surrendering 4 eighth-inning runs with 2 outs, the Cubs surrendered another 4 two-out runs which eventually doomed them against the Reds. And in what's becoming a familiar theme this year, the Cubs were unable to plate any two-out runs of their own until 26 of their outs had been exhausted – and the 3 runs that they did manage in the ninth fell short of what was needed to extend the game.
In what's sure to be an unpopular opinion, I'm completely agreeing with Dusty Baker's assessment of the game. "The team that gets the two-out hits is the team that wins the games," Dusty said. "Those are big, big clutch hits when you get two out." And he's right, the Cubs actually had more opportunities to score runs, but too often they ended the inning with a whimper.
With 15 hits on the day, they were seemed incapable of putting more than 2 of them together at a time. The Cubs combined for 4 hits total in both the 6th and 9th inning. But they scattered their other 7 hits and couldn't plate a run in any other inning. Even in the ninth, they got a lot of help from Aroldis Chapman who gave up two walks along with four hits (from which the Cubs only scored thrice).
"Star of the Game"
Just a disclaimer here – I don't consider J.J. Hoover the star of the game – even if the WPA does. He recorded a single out. But I've already tried to post a recap without a star this year…I won't make the same mistake twice. In my opinion, the stars of the game were each teams' starting pitcher. Both pitched better than their scoreline shows, particularly Leake. But the offense for both sides was a team effort, making it a bit difficult to single out one player. In fact, you could argue (successfully too) that the biggest contributor to the Reds win was Darwin Barney. Totally deserving of his -.453 WPA, Barney GIDP twice along with a bases loaded strikeout to end the game. About the only thing he didn't do for the Reds was relay pitch locations to their hitters.
Matt Garza
Finally throwing again, the small bit of Matt Garza news is that he'll make a second rehab start on Monday. Dale Sveum said he expects Garza to make that start and at least two more before he might be ready for a return to the majors. Let's hope there aren't anymore hiccups along the way.
Like what you see here? Never miss new content. Follow Us: