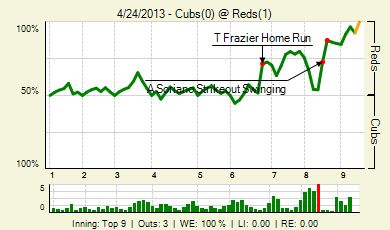 Cubs 0, Reds 1
The Good  Here's a sentence I never thought I'd type: Jeff Samardzija looked like an ace today. Maybe that's overstating it a tad, but I'm very impressed with him and the Cubs' starting staff in general to start this season. ESPN Chicago beat writer Jesse Rogers wrote about just how effective the starters have been through the first twenty games of the season, and how their performance has made the team's weaknesses all the more infuriating. Wednesday was no different, with the Cubs wasting another quality start from Samardzija. The first batter he faced hit a high bouncing grounder back up the middle and he made a stab at it with his pitching hand. The result was a bashed index finger that looked pretty gnarly for the rest of the game, but didn't inhibit his performance. He was dealing for most of the afternoon–be sure to check out the pitches he threw to strike out the side in the 3rd–and his only hiccup came on a Todd Frazier homerun in the 6th. If the Cubs had any consistent offensive presence, they could have walked away with this game.
The Bad  But they don't. Dale said it best: "We're just having trouble hitting the outfield grass when we get people on base." Yup, that's pretty much it. I will say I can handle this kind of loss a little better than another heartbreaking blown save, but it still stings. The Cubs go to 6-14 with the loss, and and all twenty of those games have been decided by four or fewer runs. If the bats ever heat up, this might be a fun team to watch.
The Ugly  The biggest threat the Cubs posed to the Reds today was in the 8th inning. With runners on 2nd and 3rd, pinch hitter Alfonso Soriano struck out swinging (for my money, Soriano's to excitable a hitter for those types of situations, but whatever) and David DeJesus came up hoping to get the Cubs on the board. With a 2-2 count, DeJesus hit a grounder up the middle that looked sure to drive in a run. Instead, Zack Cozart ranged over to nab it, throw to first in time for the out, and stomp his cleat right through my chest. And with that, another winnable game slipped through our fingers. Oh well, on to Miami.
Like what you see here? Never miss new content. Follow Us: