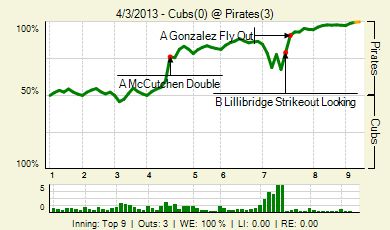 Star of the Game – Wandy Rodriguez (.248 WPA)
---
The Good
Edwin Jackson didn't look too bad in his Cubs debut. In five innings of work he managed to strike out five batters while giving up only three hits and a walk. The problem for Jackson was that he had one bad inning–and not even a Chris Volstad-esque bad inning. Garrett Jones led off the fourth inning with a single, and scored on Andrew McCutchen's subsequent double. McCutchen then moved to third on a grounder, and then came home to score when Starlin Castro whiffed on Gaby Sanchez slow bouncer through the infield. Two runs wouldn't seem to be an insurmountable deficit, but it is when you manage to put up only two hits.
The Bad
Only two measly hits! As they have so often in the past, the Cubs once again made Wandy Rodriguez look like the craftiest of veteran lefthanders, straining just to put runners on base (only one runner ever even made it to third base). The only time the Cubs came close to threatening Rodriguez was the seventh inning, and they were significantly aided by Rodriquez's dwindling control. After hitting Anthony Rizzo and giving up a single to Alfonso Soriano, Rodriquez caught Scott Hairston looking. He then hit Welington Castillo to load the bases, and labored through a ten-pitch at-bat from Brent Lillibridge, whom he also struck out looking. Alberto Gonzalez took pity on Rodriguez's tiring arm and flew out to end the inning. After the game, Dale pointed out that the Cubs have yet to record a hit with a runner in scoring position. Not exactly the kind of dry spell you want to start the season.
The Ugly
According to Dale and Cubs' pitching coach Chris Bosio, in spite of shaky spring and his lousy outing Monday, Carlos Marmol is still the Cubs' closer. Not a total surprise–more like a friendly reminder to emotionally prepare yourself the next time the Cubs take a lead late into a game. If and when that should happen again.
Up Next
The Cubs will try for the series win when Travis Wood faces off against James McDonald at 11:35am CT.
Like what you see here? Never miss new content. Follow Us: