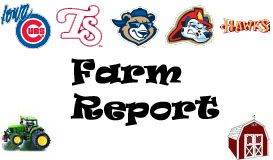 For our final prospect spotlight of the season, we're looking at the Cubs' farmhands who have been sent to join the Mesa Solar Sox of the Arizona Fall League for the next couple of months. Before I list the players, I just wanted to note that I think the AFL gets a lot more recognition than it probably deserves, especially for offensive players.
To start, Arizona is an offensive environment. These are the same locations that Cactus League games are played in. Beyond that, most top pitching prospects don't end up in Arizona, as the top starting pitching talents in the minors have generally hit their organizationally imposed innings limits by the end of their respective minor league seasons. The best pitchers in the AFL tend to either be guys who are coming back from injuries or recent high level college draftees who didn't have their arms destroyed in the College World Series.
Hitting prospects don't have inning limits. So you generally have better hitting prospects against lesser pitching prospects in an extremely offensive environment. So take all hitting numbers with a grain of salt.
The following are the Cubs who are going to the AFL for the start of the season, with links if I've written about them recently.
Pitchers: Dae-Eun Rhee, Kevin Rhoderick, Nick Struck, Tony Zych
Hitters: Javier Baez, Matt Szczur, Rubi Silva
I've written about Baez and Szczur recently, so you know that Baez is one of the top three prospects in the Cubs' system, and that I think Szczur is most likely a fourth outfielder. Rubi Silva isn't anyone to get excited about, as he spent his age 22/23 season putting up fine but not special numbers in High A and Double A. He also walked in less than three percent of his plate appearances. Combine all the facts above, and he's essentially a non-prospect.
The pitchers aren't much to write home about either. Dae-Eun Rhee looked like he might have been taking a step forward in 2011, but stalled this season in Double A. Kevin Rhoderick and Tony Zych are relievers, although Zych does have the potential to be a late inning guy. Struck was probably the best pitcher in the Cubs' upper minor leagues this year, putting up a 3.18 ERA and 3.75 FIP for Double A Tennessee while striking up more than 7 per 9 innings and walking just over 2.5 per 9 innings. But, at 5'11" and 185 lbs, Struck is not that projectable, and he's the sort of guy who is going to have to get every ounce of his talent to be more than a back end of the rotation starter in the Majors. Those are fun guys to root for, but not good guys to bet on.
As I intimated at the beginning, this will be my final minor league post of the season. I'll be continuing to write for the site, but over the offseason will be focusing on other items (although the prospects will be involved in some of those post, I'm sure.)  Thanks to all of you who read and posted over the course of the season.
Like what you see here? Never miss new content. Follow Us: