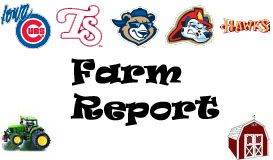 Overall it was a good year for the farm system. Anthony Rizzo led way and will be a fixture in the Cubs lineup over the next few years. Management added free agent Jorge Soler and Juan Carlos Paniagua and traded for their new #1 pitching prospect, Arodys Vizcaino, in addition to the players added in the June draft.
But not all was good:
Everyone knows the story on Brett Jackson by now. He simply will not succeed unless he makes more contact. The 42.9% K rate in the small sample is bad enough, but the 33.8% in AAA is worse than any player in the majors! I saw a comment on this site yesterday referencing "Korey" Patterson, but Patterson only had a 20% K rate in his career. If you thought "Korey" was bad…wait until you see a full season of Brett Jackson. At this point, I'd be surprised if he turns into a .220/.300/.400 hitter.
Back when the Cubs traded for Matt Garza before the 2011 season, I was happy that it was Chris Archer and not Trey McNutt that was the main pitcher in the deal because I liked the K/BB rate McNutt put up. Well, he's regressed since then. Significantly. He was put in the bullpen this year where he'll try to carve out a career as reliever. I'm not hopeful. It wouldn't shock me if Chris Archer, with all of 27 innings thrown, might have already  had a better career than McNutt will ever have.

I had higher hopes for Rhee than most. 2011 saw his second season back from injury and a nice increase in strikeouts while maintaining a decent walk rate. But, like most Cub pitchers it seems, Rhee hit a wall in AA and saw a massive drop in strikeouts. If you can't strike out batters in AA, you're going to have a hard time making it to the majors. I think it's safe to say that Rhee won't be on 2013's Top 20 prospect list.
Although Gerardo Concepcion isn't a guy I was very high on coming into the season, his stock is still way down. Nearly into the non-prospect range. With the new CBA putting a cap on the amount of spending for international free agents, many were fooled by the high dollars the Cubs gave Concepcion. But he has a hard time hitting 90 mph on the gun and ended the season with more walks than strikeouts. The Cubs will tell ya he's still learning how to pitch and he does have the potential for a good breaking ball, but his reputation for being advanced wasn't validated by his numbers.
All in all, not many disappointments in the Cubs system this year, but I think that's because there wasn't much to be expected of the farm to begin with.
Like what you see here? Never miss new content. Follow Us: