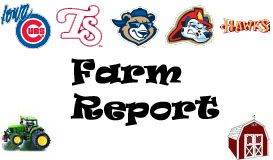 Norm must have known that I was going to have a crazy week at work this week, because he did half of my writing for me last week! Two weeks ago, we looked at the Cubs' top prospects, who were all hitters: Javier Baez, Albert Almora and Jorge Soler. But the Cubs have other hitters who look like they could be big contributors in the Majors eventually.
As I alluded to above, Norm talked about three of my five guys last week: Ronald Torreyes, Dan Vogelbach and Gioskar Amaya. As he did a wonderful job describing them, I won't repeat him. So I'll just focus on my other two: Jeimer Candelario and Christian Villanueva.
Jeimer Candelario (3B)

2012 Stats
Boise Hawks (Short Season A): 310 PAs, .281/.345/.396, 5 HR, 2 SB, 1 CS, 8.4% walk rate, 17.7% strikeout rate
Candelario started the season extremely hot in June before having a more modest July and August. I still like the fact that he put up fairly strong numbers in Boise as an 18 year old, as Candelario won't turn 19 until November. He's a switch hitter with the potential to hit for average and power, and he's shown a very good walk rate considering his age. There is a real question about his defense, as it isn't clear if he'll be able to stay at the hot corner or have to move to left field or first base. However, there are a few years before the Cubs really need to answer that question. Candelario will almost certainly start 2013 at Low A Kane County.
Christian Villanueva (3B)
2012 Stats
High A (most of year with Rangers' organization, remainder with Daytona Cubs): 520 PAs, .279/.353/.427, 14 HR, 14 SB, 11 CS, 6.5% walk rate, 20.6% strikeout rate
Villanueva is the big piece that the Cubs received in return for Ryan Dempster from the Texas Rangers. The Cubs are loaded with potential high ceiling players who either are at or have a pretty high likelihood of moving to third base: Javier Baez, Junior Lake and Jeimer Candelario lead the bunch, but you also have Josh Vitters who you can't write off yet despite his awful first stint in the Majors. I don't think Villanueva has the ceiling of those guys, but aside from Baez he probably has the highest chance of being a useful Big Leaguer for a long time. He's played well in age appropriate leagues in every season as a professional. I would not be surprised to see him start for a year or two starting in 2014 until Baez is ready. He'll likely start the 2013 season in Double A Tennessee.
Like what you see here? Never miss new content. Follow Us: