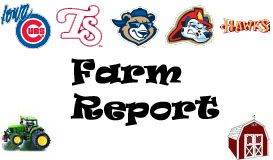 Most followers of the farm system would tell you that it has improved greatly and will be way up in organizational farm rankings. My guess is you'll see four players from the 2012 draft, two international signings, and two prospects acquired in trade (eight total) in the Cubs Top 20 next year (40%). Every team in baseball can say they added talent from the draft, so we'll cancel that out. That leaves four extra players; one that might have been a Top 10 draft pick (Jorge Soler), one that was a Top 50 prospect going into the season (Arodys Vizcaino) and the other two no worse than equal to 2nd round talent (Christian Villanueva and Juan Carlos Paniagua) acquired in the last year.
That is a great improvement. But it doesn't end there. These players all saw their stock go up after the 2012 season:

Logan Watkins put up career bests in just about all the counting stats (H, 1B, 2B, HR, R, RBI, BB, SB) in his AA season, but the surprise to me was the power. He hit five home runs last season, one in 2010, but nine this season. 22 years old (not "old" for the league), he saw improvements in walk rate and strikeout rate, plays good defense at 2B and SS, and his numbers were much better than the league average. His BABIP wasn't so high that I would consider these numbers a fluke. I would guess he'll be in AAA next year while seeing some action in Chicago, and perhaps taking over the role of the slap hitting second baseman.
"Stock up" for a player with a .264/.326/.385 line? Yup. Ronald Torreyes is a favorite of mine because he's tiny, he rarely strikes out, and he was one of the youngest players in the Florida State League while putting up a league average line. That line is also skewed by a low BABIP that led to him hitting .224 pre All-Star game. After that? .297/.361/.450. He's just 3 months older than Javier Baez and I think we'd be pretty happy if Baez hit .297/.361/.450 at Daytona this year. Another 2B, he'll likely take Watkins spot in AA next season.
Javier Baez (just Peoria Chiefs Single A numbers are shown here) had a fantastic first season showing his prodigious power with unexpectedly good reviews on his defense at short and an equally unexpectedly good number of stolen bases, the product of good base running rather than great speed. He'll likely be in most everyone's Top 25 overall prospects and could be as high as 15. I love the power and he'll be the Cubs #1 prospect in this man's opinion, but I just don't like the low BB% combined with a 20% K rate…I have more doubts than the average fan.

All bat, no speed, and very likely, no glove, Dan Vogelbach is still one of my favorites because he's so friggin big that he would simply be interesting to watch. Everyone knew he had power, but he showed good control of the zone with good walk and strikeout rates. He won't be a Top 100 guy in 2013, but keeping up the power and BB% will give him a great shot the following year.

The Cubs organization has second basemen growing on trees. The next middle infielder prospect in the system, Gioskar Amaya now has a line of .316/.389/.455, with 9 home runs and 46 stolen bases in 830 career plate appearances. You'll notice he hit 8 of his career 9 homers this year, while his BB% improved at the same time. His strikeout rate is a bit higher than I like to see at the Northwest League level, but he continues to hit and get on base. I'm not sure if I like Amaya as much as I like Jeimer Candelario, but Amaya's results are an improvement while Candelario (although he did skip the Arizona Rookie League).
Like what you see here? Never miss new content. Follow Us: