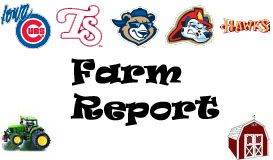 None of the contenders for the Cubs' top prospects are pitchers. However, while Theo Epstein, Jed Hoyer and Jason McLeod have not added pitchers with surefire top of the rotation potential, they have greatly improved the Cubs' minor league pitching over the past three months. In particular, they've focused on pitchers with elite stuff.  The following are the three pitchers I view as the best in the Cubs' system.
Arodys Vizcaino
2012 statistics: (Did not play due to Tommy John Surgery).
Vizcaino was the biggest piece the Cubs' received in their mid-season sell off, and was the headliner of the trade to Atlanta for Paul Maholm and Reed Johnson. Vizcaino, who won't turn 22 until November, has electric stuff with a mid to high 90s fastball, power curve and a change up he's had success with. But he's undersized and a full effort guy, so he might be prone to injuries like the elbow he blew out in spring training.
The question is if he can hold up to a starter's workload. Vizcaino has never thrown more than more than 114.1 innings in a season as a professional, and that was last year. At the minimum, he should be a good closer. But, if he can hold up to the workload, he has the highest ceiling of any pitcher in the Cubs' organization and could be a top of the rotation sort of pitcher.
I expect the kids to treat Vizcaino with something of kid's gloves next season. Not only do I expect them to have an innings limit for Vizcaino, but I wouldn't be shocked to see Vizcaino start the season in the more pitcher friendly Double A Southern League instead of the launching pad of the Pacific Coast League. However, I would not be surprised at all to see Vizcaino finishing the 2013 season in the Cubs' bullpen, with plans for him to join the rotation in 2014.
Pierce Johnson

2012 statistics
Arizona Cubs (Rookie League): 3 IP, 0.00 ERA, 1.87 FIP, 6.00 K/9, 0.00 BB/9
Boise Hawks (Short Season A-Ball): 8 IP, 4.50 ERA, 1.33 FIP, 13.50 K/9, 3.38 BB/9
The Cubs picked Johnson with the 43rd pick in the 2012 draft, with the compensation pick they received for Aramis Ramirez. I covered Johnson the day after he as picked, so I'll just briefly recap the info I covered there. Johnson has three good pitches, a low to mid-90s fastball, a power curve and a solid change up, and probably would have gone in the mid to late first round not dealt with a forearm strain while pitching for Missouri State this season. Johnson should start the season in Low A Peoria, but could move quickly up the ladder.
Juan Paniagua
2012 statistics
Arizona Cubs: 3.2 IP, 0.00 ERA, 2.65 FIP, 9.82 K/9, 2.45 BB/9
The Cubs spent $1.5 million, much of their international amateur signing limit, on Paniagua. Previously, Paniagua was best known for having contracts voided twice because MLB has been unable to verify his age. The Cubs, however, have waived that concern and as such the contract cannot be voided.
Paniagua reportedly has a low to mid-90s fastball along with a sharp slider that sits in the high 90s. The change up reportedly needs work, but the stuff is pretty elite. And as long as he's somewhere near the 22 years old he claims to be, the age is probably not a big concern.
Like Johnson, he will probably start in Low A next season and could move pretty quickly.
Others to Watch: Dillon Maples, Ben Wells, Paul Blackburn, Duane Underwood, Anthony Prieto
Like what you see here? Never miss new content. Follow Us: