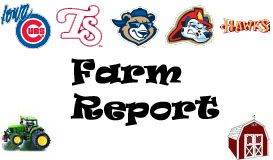 Here is the post I've been dreading. The pitching prospects in the system just aren't exciting. We all know there isn't an elite arm down there, but there isn't even a pitcher that started 10 games that maintained a strikeout rate of at least one per inning (unless you want to include 12 starts for SIXTEEN year old Carlos Rodriguez in the Dominican Summer League). No pitcher in the system where you just can't wait to check the box score. So yeah, I've been dreading to write this because the organization's pitching is just so darn boring.
Without further adieu, our Top Pitching Prospects: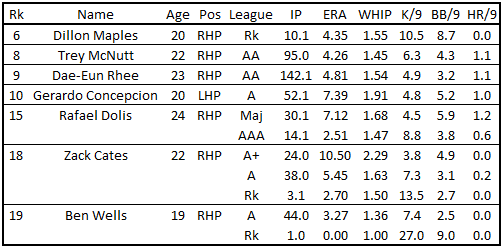 We have yet to see why most prospect rankings had Dillon Maples as the top Cubs pitching prospect to begin the season. Injury has caused a very slow start to the 20 year old's career. Have to hope 2013 is a year we can see what he's all about.
A couple years back, Trey McNutt was neck and neck with Chris Archer as best pitching prospect in the Cubs system. I preferred McNutt because he had a lower walk rate. But he hasn't been the same pitcher that last two seasons, with his K/9 dropping from 10.2 in 2010, to 6.2 and 6.3 in 2011 and 2012. He was moved to the bullpen after 17 starts this year, and while his K rate went back up to just under one per inning, his walks were high with 14 in 28 innings. He's a reliever at best and may see Wrigley next year.
Dae-Eun Rhee was a personal favorite of mine heading into the year. But like most other Cub pitchers, his K rate saw a significant drop once he hit AA. He might be another one of the 6th starter types the Cubs are filled with these days.
The biggest bust of the year may belong to Gerardo Concepcion, depending on what you thought of him. Some saw the $6 million price tag and thought the high dollars meant a high quality pitcher. It doesn't look that way. I've heard a few excuses, like the Cubs were holding back on his secondary stuff so he can work on his mediocre fastball, but that doesn't seem very believable to me. I don't expect him to ever see the majors, but, he's only 2o years old, he's left handed, and has the skills. He just needs to learn how to pitch.
Rafael Dolis has an average fastball of 95. I think that's the only thing good I can say about what I've seen from him. He walks too many and doesn't strike out enough. I thought he was closer material, but he just doesn't appear to have the stuff.
I bought into some of what I read on Zach Cates. He came over with Anthony Rizzo from the Padres as a throw-in lottery ticket. It didn't pay off in 2012, but there is plenty of time. He's a converted position player, so he doesn't have much time on the mound, but he regressed from a solid 2011.
So nothing to get excited about so far, but alas, I bring you some hope from Hendry holdover Ben Wells. He's not an ace, but I think he's got the best chance of any pre-Theo/Jed pitcher to make an impact. He was one of the youngest players in the Midwest League and demonstrated good control before being shut down with an injury for nearly three months. Delays his progress and I'm guessing would start 2013 in the Midwest League again.
In conclusion, not a single one had an impressive year. There were a few pitchers in the system that weren't in our Top 20 that had good years; like Alberto Cabrera, who will probably be a fixture in the bullpen, and Nick Struck, who put together a second good year, and Michael Jensen and Erik Jokisch and Starlin Peralta, but they are the same as the group above. Boring.
The silver lining? It can only get better in 2013.
Like what you see here? Never miss new content. Follow Us: