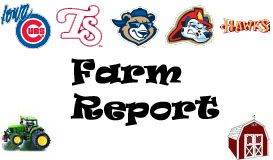 Back in early July, just after Jorge Soler officially, I listed five prospects that I thought had a shot at being the number on prospect in the Cubs' system heading into this offseason: Brett Jackson, Josh Vitters, Javier Baez, Soler and Albert Almora.  While Jackson and Vitters have both graduated to the Majors, not only do the latter three remain, but they would have been the top three prospects in the Cubs' system even had Jackson and Vitters not been promoted.
A good argument could be made that any of these three players should be the top prospect in the system. The good news is that they are the best top three prospects in the Cubs' system in a long, long time.
This post is to not intended to repeat the July post, so I won't be discussing their tool sets except to the extent we have new information from the past couple of months.
Javier Baez, SS
Season Stats
Peoria Chiefs (Low A): 57 games, 235 plates appearances, .333/.383/.596, 12 HR, 20 SB, 3 CS, 3.8 % walk rate, 20.4% strikeout rate.
Daytona Cubs (High A): 23 games, 86 plate appearances, .188/.244/.400, 4 HR, 4 SB, 2 CS, 5.8% walk rate, 24.4% strikeout rate.
Baez had already spent a month dominating the Midwest League when I wrote about him in July, so the real news at the plate is what happened upon his move up to Daytona. The short version is that he struggled. However, I would add the caveat that the Daytona Cubs had more than 10 games postponed or canceled from August 1 on, so playing time was irregular. Also, 86 plate appearances is a tiny sample size.
Baez does have some significant work to do, though. ESPN recently brought Kiley McDaniel, a former MLB Scout, on as a contributor to Insider, and he looked at Javier Baez this past week. It's behind the Insider pay wall, but McDaniel believes that Baez's extreme bat waggle is not something that will succeed as he progresses through the minors. McDaniel said that the extreme bat waggle makes Baez guess what is being thrown, instead of reacting to what is thrown. McDaniel believes that Baez's swing needs to be reworked somewhat to control the bat waggle. However, McDaniel believes the sky is the limit as far as Baez's potential at the plate is concerned, and it will merely be a question of how hard he is willing to work.
Defensively, the news is good about Baez. After being drafted, most thought Baez would need to move to third base eventually. The word now is that scouts think Baez has a significantly higher possibility to stick at shortstop than they did a year ago.
Despite the struggles at High A, Baez will be in the top half of every Top 100 prospect lists, and will probably be in the top twenty-five of most. Baez will also be making his first Arizona Fall League appearance this year. He will likely return to Daytona next season.
Jorge Soler, OF
Season Stats
Arizona Cubs (Rookie League): 14 games, 61 plate appearances, .241/.328/.389, 2 HR, 8 SB, 0 CS, 9.8% walk rate, 21.3% strikeout rate.
Peoria Chiefs: 20 games, 88 plate appearances, .338/.398/.513, 3 HR,  4 SB, 1 CS, 6.8% walk rate, 6.8% strikeout rate.
First, just ignore the numbers from Arizona. That was Soler's first competitive game action in more than a year, and Soler was only there to get his timing back and see some live pitching.
Upon moving up to Peoria, though, Soler exceeded expectations. Everyone expected Soler to hit for power, but the average, which was fueled by a miniscule 6.8% strikeout rate, was a surprise. If Soler can maintain that sort of contact rate as he moves up the minors combined with his power and athleticism, he is going to be a very special player.
Like Baez, Soler is going to be in the top half of Top 100 prospect lists. I have a feeling that most will list him behind Baez, in part based on less scouts having seen Soler at this juncture. I would expect Soler to start next year at High A Daytona. Also, while he is not currently scheduled to go to the Arizona Fall League, it would not be a shock to see him added to it.
Albert Almora, OF
Season Stats
Arizona Cubs: 18 games, 80 plate appearances, .347/.363/.480, 1 HR, 5 SB, 1 CS, 2.5% walk rate, 10 % strikeout rate.
Boise Hawks (Short Season A): 15 games, 65 plate appearances, .292/.292/.446, 1 HR, 0 SB,  1 CS, 0% walk rate, 7.7% strikeout rate.
For the most part, Almora was exactly as advertised. There was one surprise, though, and it was negative: despite being reported to have an advanced approach for his age, Almora only walked 2 times in 140 professional plate appearances. At this point in his young career, it is nothing to be concerned about. But it is something to be aware of, at the least.
Almora will likely start next season with the Cubs' Low A franchise, which if the rumors are true will be moving to Kane County next season. Like Baez and Soler, he will have a solid spot in the top half of most, if not all, Top 100 prospect lists.
Like what you see here? Never miss new content. Follow Us: