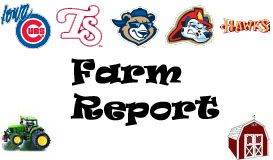 All in all, it was a pretty good season for the position prospects in the Cubs organization. 8 of the top 9 had on-base percentages over .340 (Brett Jackson is the lone exception at .338), Javier Baez became one of the Top 25 prospects in all of baseball, Matt Szczur completely changed his approach, and Dan Vogelbach showed that he's more than just power and his #4 pre-season ranking might not have been too aggressive after all.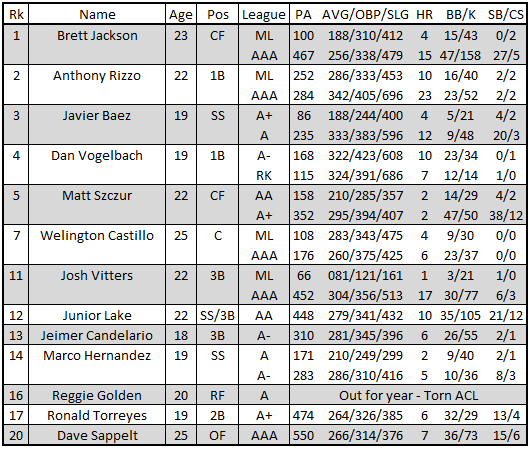 It looks like the 2013 Cubs could have as many as four of these players in the opening day starting lineup; those being Anthony Rizzo, Welington Castillo, Brett Jackson, and Josh Vitters. Jackson and Vitters are still pretty big question marks, in my opinion, but both Rizzo and Castillo look like they could be everyday contributors for a long time.
We've gotten a taste of Brett Jackson's game. Strikeouts, walks, occasional hit. It's the last part that will determine his future. I think if he can hit .220-.230, he'll be a productive player. I'm just not sure he can hit .220.
The most important success story to the 2012 Cubs has to be Anthony Rizzo. His numbers in the big leagues are coming down and fans might be expecting a bit much from him because of his hot start, but I think the Cubs found their 1B of the future. I'm not sure he has any All Star years in him, but I think he'll be a solid producer for the next 5 or 6 season.
Javier Baez killed the ball in Peoria, but struggled against more advanced pitchers in Daytona. He'll be in most Top 25 lists in the 2013 rankings. His defense received good reviews and while the thinking is still that he'll end up moving to 3B, there is a better chance to stick at shortstop than we thought in April. He has an aggressive approach, which is my one worry about him.
Dan Vogelbach is a full two levels behind Baez, so while his numbers were more impressive, the competition was not. I like the fact that he didn't strike out too much, and was able to walk an above average amount of walks. Shows he's got a good approach. He's going to need to keep hitting at every level before he's given much respect as a prospect, but I like what I see so far.
The biggest surprise to me was the year Matt Szczur had in High A Daytona. Yes, he was a bit old for the league, but the increase in walks was nice to see. I still think he's a fourth outfielder, but he's got an interesting skill set and a much higher ceiling than a Dave Sappelt (another guy I see as a fourth outfielder) because of his tools.
The most underrated player on this list is Welington Castillo. It's not common to find a capable everyday catcher and I think the Cubs have one here. He has a good arm, he takes walks, he can hit some home runs.
A couple more surprises, Josh Vitters and Junior Lake. Neither player will give you much on defense, so the bats will have to hit for them to be productive. Neither player walks much, they swing a lot, and have pretty high ceilings, but the chances either of these guys reaching that ceiling is slim due to their approach. A year ago I wasn't sure if either of these players would ever be a major leaguer, now, I'm thinking they are both at least utility players.
Although it was a step back from 2011, Jeimer Candelario's season was pretty good for an 18 year old kid and will likely rise a little on next years list.
Marco Hernandez is probably the biggest disappointment on the season. The Cubs were aggressive with him by starting him in Peoria, but it didn't work out.
Reggie Golden had a wasted year and will likely be back in Peoria (Kane County?) next year.
Ronald Torreyes started slow but turned it on in the second half, putting up an .811 OPS as one of the youngest players in the league….a personal favorite of mine.
Finally, Jedi's favorite, Dave Sappelt. After two excellent seasons, he put up his worst in 2012. There was a dip in power, walk rate, and strikeout rate. His career will likely be a constant battle of trying to hang on to a reserve outfielder spot.
Like what you see here? Never miss new content. Follow Us: