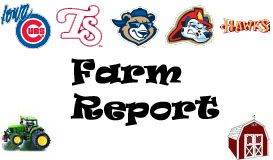 Under normal circumstances, outfielder Matt Szczur is the sort of prospect most Cub fans would have not heard of at this point in his professional career. If you doubt that fact, remember that Szczur was the Cubs' fifth round pick in 2010. Try to name another Cubs' fifth round pick without looking it up first.
As such, a player like Szczur would normally go through the minors with little fanfare. Five factors made that impossible for Szczur: (1) Szczur was a star wide receiver and returner for the Villanova Wildcats of the Football Championship Series (formerly Division I-AA); (2) Szczur was a good enough player and athlete to be projected to be a mid-round NFL draft pick, had he gone that route; (3) Baseball America became quick fans of Szczur and his athleticism; (4) the Cubs gave him a $1.5 million signing bonus and an MLB contract to forego a professional football career, and (5) while at Villanova, Szczur donated bone marrow to a 15 month old girl.
Clearly Szczur is a gifted athlete, and more importantly a class act of a human being, but what kind of baseball player is he? There are few prospects who garner more discrepancies in scouting reports than Szczur does. Baseball America has loved Szczur for two years now, touting his athleticism and seeing the potential for more power than he has shown in thus far in the minors. Baseball Prospectus and Keith Law see a swing that is too slappy to be more than a fourth outfielder on a good team.
Unfortunately, I have come to be more in BP's and Law's camp on Szczur. In fact, no hitter has fallen more in my estimation in the Cubs' system this season than Szczur has. Here's the short version of describing both of Szczur's full seasons as a professional: he performs well, but not dominantly, in a league that he's too old to be a top prospect in. When he moves up, he struggles.
In his age 21/22 season (Szczur's birthday in July 20) in 2011, Szczur performed very well the first half of the season for Low A Peoria, posting a .314/.366/.431 in 298 plate appearances with 5 home runs, 17 stolen bases in 22 attempts, a walk rate of 7% and a strikeout rate of 9.4%. But he struggled following a promotion to High A Daytona, going .260/.283/.410 in 182 plate appearances.  He hit 5 homers in Daytona and added 7 steals in 7 attempts, but the walk rate dropped to a tiny 2.7% and the strikeout rate increased to 11 %.
And before we get comments about what the "average" age is in these leagues, think of it this way: of the Cubs' top offensive prospects, how many of them were playing (or will be playing) in Peoria in their age 21/22 seasons? This is the off my head list of the Cubs' top offensive prospects: Javier Baez, Albert Almora, Jorge Soler, Christian Villanueva, Ronald Torreyes, Junior Lake, Jeimer Candelario and Gioskar Amaya. The answer is zero. Top prospects just generally do not make long stops in the Midwest League in their age 21/22 seasons.
But my downgrade of Szczur is largely a result of this season's performance. Returning to Daytona, Szczur struggled early in the season, but rebounded to have a solid .295/.394/.407 line in 352 plate appearances. Szczur did not hit for much power with only 2 home runs, but he did steal 38 bases in 50 attempts. However, that is not an elite success rate, just over the 75% needed for a player to add more value with stolen bases than he loses from getting caught. The one really impressive thing that Szczur did at High A was greatly increase his walk rate, up to 13.4%. Moreover, Szczur improved his walk rate while only slightly increasing his strikeout percentage.
Unfortunately, Szczur was again old to be a top prospect at Daytona, and struggled upon his promotion to the more age appropriate Double A Southern League. In 153 plate appearances, Szczur posted just a .209/.281/.360 batting line. Most troubling, the walk rate dropped to 8.5% while the strikeout rate rose to a professional career high of 18.3%.
Szczur will almost certainly return to Double A to start the 2013 season. But he is just too old to be a top prospect while needing a second shot at every level above Low A to figure it out. At this rate, he is not even looking to be ready for the Majors until he is 25 at the earliest. Maybe he figures it out, but he is not hitting for power, not succeeding at stealing bases at a rate you would expect someone who is reported to be as fast as Szczur would, and just overall looks like a future reserve outfielder.
If I re-listed my Top 20 prospects now, Szczur would almost certainly make it. But he also almost certainly would not make my Top 10.
Like what you see here? Never miss new content. Follow Us: