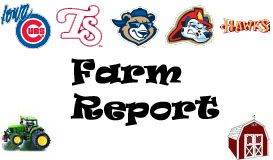 At the start of August, the Cubs called up 2007 first round pick Josh Vitters and 2009 first round pick Brett Jackson. This was actually something of a surprise. Vitters appeared to be turning a corner this year at Triple A Iowa, but he was only a few months in to seeming to potentially have figured out how to be a bit more patient at the plate. On top of that, he continued to be not particularly impressive at third base.
Jackson was having his worst year as a professional, largely a result of a 33.8% strikeout rate. It's just really hard to see a lot of success in the future of a prospect who walks back to the bench without making prospect more than 3 times out of every 10 plate appearances.
My wife and I went to the game on Saturday, and I was able to get my first live look at the players.  I was down the left field line, so I was not able to judge pitch location at all, but it was fun to see them for the first time.
Vitters went 0-4, but absolutely smoked the ball three times, twice to left and once to center. He just had problems hitting it where they weren't. He was only challenged once defensively early in the game, where he had to dive for a hard hit ball and it bounced off his glove. I could not tell, however, if it was a sign of lack of range or the sort of play that was difficult for anyone.
Jackson went 2-3 with a double, home run and walk. The home run was wind aided, with a right to left wind pushing the ball just far enough left of center for it to get out, but it wasn't one of those hit a long pop up and let the wind take it out types. The sole disappointment was that Jackson wasn't sent on attempt to steal second after the walk. Instead, for some unknowable and apparently insane reason, the coaching staff waited for Joe Mather to walk behind Jackson and then sent them on a double steal. Mather was caught at second for the final out of the inning.
Unfortunately, they both also showed signs of their reported worst habits in their final plate appearances of the game. In the eighth inning, Vitters weakly popped out to the first baseman on the first pitch he saw. And Jackson struck out looking on four pitches for the final out of the game.
With that said, both of them showed some promise, and it was good to see them live. I still think the promotions were more aggressive than necessary, but I did enjoy the benefit of the fact that seeing Brett Jackson and Josh Vitters is more exciting than seeing Adrian Cardenas and Dave Sappelt.
Like what you see here? Never miss new content. Follow Us: