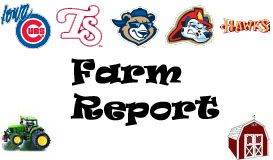 Carlos Marmol set a major league record back in 2010 when he struck out nearly 16 batters for every 9 innings (that record has since been broken by Kenley Jansen). He's down to 11.5 K/9 this year, but that's still good for best on the team; unless you want to include the 7 innings pitched by Alberto Cabrera. The Minors Leaders, not including the foreign rookie leagues and anyone under 20 innings pitched:
Seven of these pitchers we've already seen in the big leagues, so it's going to be more of a "get to you know them" type writeup. The guys I think have the brightest future on here are, following the order of the above list:
Alberto Cabrera: I don't think his seven career innings is enough for me to get on his case about walking too many hitters and implying he's the next Carlos Marmol. His walk rate in the minors this year could be an aberration, as it's a half of his career rate of 4BB/9, but he's got a nasty fastball at 94-95 mph with a good slider. That's a good combination for a relief pitcher.
Jeff Beliveau: Beliveau was in a similar place as Cabrera is now, although he did it as an older player in a lower level league. So I'm not as high on Beliveau as I am on most others here. But he's got a career K/9 rate of over 11 and throws with the left hand, so I think we'll be seeing him regularly over the next few seasons.
Lendy Castillo: I'm intrigued. As a Rule 5 pickup, I'm hoping The Front Office saw something in him and we can chalk this up as a win. He was used as a starter in his rehab stint, so maybe the Cubs are considering the move for next year, but I'm not sure he has the repertoire. He's a converted shortstop, so he's only been pitching since 2010, and in 131 career innings, he's posted a 1.12 WHIP.
Tony Zych: The only one I'm mentioning without big league experience, Zych has shown solid strikeout numbers combined with a BB/9 under 3. A local kid (St. Rita High School), the Cubs took a flyer on him by taking him in the 46th round in the 2008 draft, Zych went to college at the University of Louisville and was taken again by the Cubs, this time in the 4th round in 2011, and Zych was considered a good value. He's shown it so far and should be the first Cubs pick from 2011 to make it to the show. (Update: Pitched 2 innings and struck out all 6 on Tuesday).
Travis Wood: I think he's a keeper and by next year, the people who still doubt the Sean Marshall trade today, will be eating crow simply because of Wood's contributions (And because Dave Sappelt will be a 4th OF and Ronald Torreyes being a good 2nd piece in a trade for a pitcher). I'm surprised to see the spike in homers considering the move from Cinci to Chicago, so that number will need to drop if he's to be anything more than a back of rotation pitcher. I think it will, there isn't a qualifying pitcher in the league with a worse HR/9 rate, so I'll bet that he isn't among the worst next year.
No high ceiling players in the bunch, but the Cubs made every attempt to change that this year by drafting guys like Pierce Johnson (2 innings, 3 runs, 2K's yesterday) and Duane Underwood (3 no-hit innings  yesterday) and acquiring Arodys Vizcaino, who would be my #1 Cubs pitching prospect right now.
Like what you see here? Never miss new content. Follow Us: