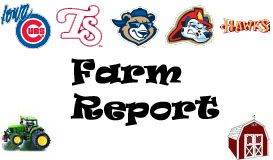 So I've been struggling on who I was going to write about this week. I had planned on circling back around to top prospect Javier Baez, who has been in High A for a couple of weeks now. But misbehaving weather means he's had something like 20 less plate appearances than he otherwise would have, and his playing time hasn't been regular for more than a week.
Instead, I decided to turn to SS/3B Junior Lake. Prior to Autumn of 2011, Lake was best known in prospect circles as a toolsy prospect who was signed out of the Dominican Republic at the same time as Starlin Castro, but who had not turned his tools into tangible baseball skills the same way the Cubs' Big League shortstop has.
But then Lake had a strong stint in the Arizona Fall League. In 115 at bats, Lake put up a .296/.352/.548 line, with 5 HRs and 18 stolen bases without being caught. Hopeful fans got Junior Lake fever. And those fans forgot about the two big problems with looking at Arizona Fall League statistics: (1) you're looking at a very small sample size of about one month's worth of plate appearances for any given player; and (2) the Arizona Fall League is an environment that greatly favors hitters.
If you were not a follower of Kevin Goldstein's Twitter feed last fall and winter, you honestly missed out. As the Cubs have one of the more rabid fan bases out there, Goldstein's feed was flooded with questions about Goldstein. Goldstein essentially responded that someone needed to teach Lake how to play baseball. Overly optimistic Cub fans went insane with rage and accusations of bias.
This season, Lake has probably had his best season as a professional ball player, putting up a .284/.339/.433 line in 389 plate appearances with the Double A Tennessee Smokies in his age 22 season. Lake has hit 8 home runs and stolen 18 bases, but has also been caught stealing 10 times. In the pitcher friendly Southern League, this is an above average line.
However, there are concerns beyond the straight hitting line. Lake's numbers are inflated by a hot May that included an .855 OPS. Lake has not posted an OPS above .781 in any other month, but he also has not posted anything under a .704 in any month. In other words, he's avoided the disaster month.
Lake has increased his walk rate slightly from his 2011 performance in Tennessee, but that is largely based on his May performance. Lakes' strikeout rate, which is high (although not Brett Jackson high) at 23.4%.
Lake is still generally exactly the same player he was last season. The improvement in most of his numbers are modest and could just be random variation. This is still a prospect that has a lot of work to do to meet his tools. Lake will probably fill a similar slot on most organization top prospect lists as he did last year, in the high single digits or low double digits.
Like what you see here? Never miss new content. Follow Us: