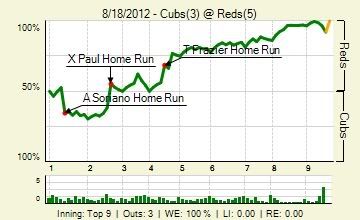 Cubs 3 @ Reds 5
Box Score / Highlights / Condensed Game
Johnny Cueto v. Jeff Samardzija – Advantage Reds
After the game, Dale would say Samardzija's progress this year has been 'better than expected' – and I totally agree. But Johnny Cueto is a real ace, Jeff Samardzija is just a guy who has nicknamed himself and happens to be the best starter in a really crappy rotation.
Alfonso Soriano
During an at-bat which in no way helped normalize Alfonso's BABIP, it appeared as if Cueto and Reds catcher Ryan Hanigan were NOT on the same page as to what pitch should be thrown.  Soriano had worked a 3-2 count with 2 down in the first, Hanigan seemed to want a steady diet of sliders to put him away, but Cueto insisted on the fastball. It was Cueto's lone mistake of the afternoon; Soriano deposited it in the second deck. Hanigan's reaction was priceless.
With the blast, Soriano became only the sixth player in MLB history to compile 1000 RBIs, 400 2Bs, 350 HRs, and 250 SBs. Andre Dawson and Willie Mays did it without PEDs, Gary Sheffield may have done it clean too – Barry Bonds and Alex Rodriguez took a shortcut to the milestone.
Other Notes
Not really much to the early game – Cueto was unstoppable after the first inning. The Cubs got something going in the ninth against Aroldis Chapman, but they NEEDED 3 runs just to tie. That wasn't going to happen. Samardzija wasn't terrible, wasn't great either. It was the four extra-base hits that really cost him. Remember, this is our defacto 'ace' and he's sporting a 4.17 ERA – I'm not sure he even fits into the Angels rotation and they're barely a .500 team. He might be our 'ace' but he's a slightly worse than league-average pitcher.
Between Games
The Cubs and Starlin Castro reportedly came to an agreement on a significant contract extension that hit the news late in the first game. The front office spent the rest of the day denying anything had been finalized, but the details that have leaked seem to indicate the two sides are very close to making it official. Effectively, the Cubs would buyout the remainder of Castro's arbitration and three further years of free agency, locking him up through 2019 with an option for 2020. A little context – Castro will only be 30 when the deal ends. So it'd be 6 years for $60mil, or 7 years for $76mil depending on whether the Cubs picked up the option for 2020.
Cubs 9 @ Reds 7
Box Score / Highlights / Condensed Game
Starlin Castro
He certainly played like a man who'd just received some good news. Castro fell a HR short of the cycle in the nightcap. That's twice in four days that he's narrowly missed the cycle. The lineup for the night game had Castro hitting fourth between Rizzo and LaHair – it worked well, but I wish Dale would stop the persistent lineup tinkering. In any case, it seems like an extension is shortly forthcoming for the Cubs' All-Star shortstop. (Baseball-Reference has 'page sponsors'; the sponsor of Starlin's page, a gentleman named Matt – of whose acquaintance I'd be pleased to make – leaves only a brief note in the section dedicated for the page sponsor. It reads, "If you don't like Starlin Castro, go step on a land mine." I couldn't agree more, Matt).
Brooks Raley v. Todd Redmond – Advantage Hitters
So we've seen Brooks Raley twice. He was terrible and then just ok – two losses. Today he was just ok again, and got the win. The early run support seemed to settle him down; and he looked more confident against the Reds than he had in either of his previous starts. Perhaps that's a by-product of this being his second start in 7 days against Cincinnati. Redmond had, until today, the interesting distinction of being the least useful callup of the year. He was traded in July from the Braves to the Reds, but he'd been added to two different MLB rosters a total of three previous times and had never made an appearance. Today, in his fourth callup of the year, he finally got a chance – and he completely squandered it.
Cubs' Offense
The Cubs battered Redmond to the tune of 7 hits and 5 walks in just 3.1 innings. Though they were only able to turn that into 4 runs, Redmond had to throw 91 pitches just to get 10 outs. The first line of Reds relievers saw the lead balloon by the top of the sixth to 8-2. Brett Jackson hit his first MLB homer and David DeJesus hit a ninth inning solo shot of his own to give Marmol some breathing room.
Distress From The 'Pen
It's not uncommon during doubleheaders for at least one reliever to draw duty in both games. Today that role fell to Manny Corpas. He was great in the first game when the Cubs lost, and terrible in the nightcap with the Cubs trying to hold a lead. He gave up a two-run bomb to Ryan Ludwick (his second of the game) and when Shawn Camp allowed an inherited runner to score just one inning later, the Cubs lead stood at 1. But Marmol locked it down and Raley recorded his first MLB victory – Volstad sulked in his locker (ok, I made that up…but he probably did).
Other Notes
There was a lot to like in the night game – the infield consisted of Valbuena, Castro, Cardenas, and Rizzo. They combined for 8 hits – although Valbuena did make an error. Contrast that with the first game; Vitters, Castro, Barney, and Rizzo combined for a single hit and 5 strikeouts. Yes, a completely different quality of pitcher on the mound for the Reds as well – but I can't abide Barney seeing just 9 pitches in 3 at-bats or Vitters' .091 average batting second. Even contact-averse Brett Jackson is hitting .182 now.
Like what you see here? Never miss new content. Follow Us: