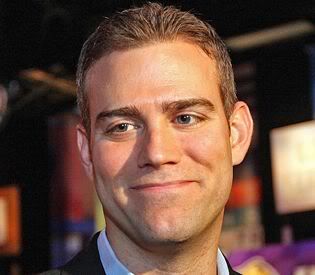 By now you've certainly all heard the news that the Cubs "parted ways" with long time player personnel executive Oneri Fleita. Fleita had spent 12 years overseeing the Cubs' minor league system and was given a four year extension last season after Jim Hendry was dismissed.
The move to send Fleita packing can't be viewed as a complete surprise (or a surprise at all, for that matter), considering he was stripped of most of his duties in November when Jason McLeod was put in charge of scouting. Friday's promotion of Tim Wilken to a special assistant role should have been seen as additional writing on the wall for Fleita that his days were numbered. Like most of us, he certainly knew this day was coming.
What he didn't know…what none of us knew…was why the move was being made. Luckily we've received a transcript* of the final conversation he had with The Theo, which sheds a little more light on the move:
TE: Jed, get Oneri in here.
JH: Oneri, The Theo will see you now.
(Oneri enters The Hall of Theo)
TE: Oneri, I'm going to skip the bullcrap and cut to the chase here. This probably isn't a huge surprise to you, but we've got to let you go. We appreciate your service and dedication, but you don't really fit what we're trying to do here. Obviously, you're under contract for three more seasons, so I would encourage you to take a couple nice long vacations and clear your head. I'll be happy to provide a reference where ever you decide to move onto next.
OF (sobbing): I understand. I knew this day was coming…I just wish I knew what I could have done differently.
TE: It's not you Oneri, it's that name of yours. It just doesn't make any sense to me.
OF: It…what?
TE: Here on the Goodship Theo, we like to keep names simple. There's no time to worry about screwing up names when you're rebuilding a moribund franchise. No time at all. Isn't that right Jed.
JH: Yessir, no time at all for funny names.
TE: Look at who we've brought in as part of our team, Oneri. We've got Jed here. Dale's doing a hell of a job. We brought Jason in when we got here. Tim just got a big promotion. Not a lot of Oneris on that list are there Jed.
JH: No sir, not a lot of Oneris.
TE: Ol' Rudy almost had it right, but how could I look myself in the mirror knowing that my staff was losing precious time trying to pronounce Jaramillo?
JH: You couldn't sir.
TE: Damn right I couldn't.
OF: This is just about that most ridiculous thing I've ever heard. Besides – you mentioned Dale…sure that's easy, but no one knows how to say Sveum correctly.
TE: That's a great point Oneri. Here's the thing – its only one syllable, you can just sort of mumble your way through that one, no problem.
OF: Well, you could just call me O, how about that?
TE: Well, O isn't really a name now is it?
OF: I guess not…I still don't understand Theo…I've got to talk to my agent, but I'm really not sure you can fire me because you don't like my name.
TE: You're probably right, Oneri. Ok, here's what I'd like you to do. Go out there and punch Starlin Castro right square in the jaw as hard as you can.
OF: I'm not going to do that.
TE: Well Oneri, that sounds like insubordination to me. I'm afraid I'm going to have to let you go. Jed, please show him out…and grab Wasserstrom on your way back in. Way too many things going on with that one…
*Full disclosure, this transcription may not be entirely or even vaguely accurate. The truth is, when The Theo came into the mix at the end of 2011, we knew (hoped!) big changes were coming. Admittedly, many of us probably expected them to come sooner – I even put together a quick top 10 list of things The Theo needed to accomplish before the season started.
However, leadership and culture changes don't happen overnight. The Theo seems to be a very astute leader, and clearly understood the organizational dynamics involved in taking on a job like his, and despite impatience from some, he took his time to assess the situation and see what he had before burning it all down and rebuilding it his way.
Well, I think it's safe to say that the rebuilding has begun – veterans are being shipped out, kids are being called up and now the front office reshuffling has begun in earnest.  The Theo Way is officially underway…we the jury can start paying attention now, though deliberation is probably still a few years away.
Like what you see here? Never miss new content. Follow Us: