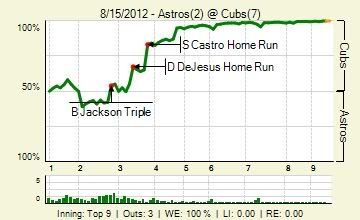 Astros 2 @ Cubs 7
Box Score / Highlights / Condensed Game
Bud Norris
The Cubs got to Norris early and often. It started with Brett Jackson's first career triple in the second, on which Castro scored to tie the game at 1. Then in the third, the ball started flying – DeJesus hit a solo homer, Castro hit a two run bomb that got out in a hurry. DeJesus was back for more in the 4th with a two-run bomb of his own. Now down 6-1, Norris was mercifully removed from the game after the next batter (Vitters) smoked a liner that injured Norris as he redirected it with his foot. In 3.1 IP, the Cubs forced Norris to throw 81 pitches. He gave up 8 hits, and 5 of them went for extra bases.
At The Plate
The Cubs would finish with 11 hits, 7 of which were for extra bases. They drew 7 walks (Soriano had two!), and took extra bases on two passed balls and a wild pitch. On offense, nearly everything went their way today. Rizzo was really the only guy who had no luck at the plate – and even he was robbed of a hit late in the game.
In The Field
Speaking of Rizzo, he helped the Cubs turn four double plays. And really all of them could be directly attributed to him. He caught a liner and stepped on first, and he also started two double plays. The Rizzo-Castro-Germano and Rizzo-Castro-Rizzo double plays were not easy plays for anyone involved – but both were vital to keeping the Astros stymied. Then there was the 'fourth' double play. The box score will show that the Astros recorded an RBI on this 'double play', forget it – I don't want to explain, just watch it. Very alert play by Rizzo, making up for Valbuena who isn't terribly clear on how forceouts work (if he'd simply tagged Francisco and THEN touched 2B it would've been the easiest double play he'd ever record – and a run wouldn't have scored!). Anyhow, the star in the field was the one guy who had no luck at the plate. Great day for the Cubs.
Justin Germano
Germano was really solid, but then again it was the Astros. I slightly question why Dale trotted him back out there in 7th. At this point, if we can get 6 good innings out of any starter not named Samardzija that has to be considered good enough. When the rosters expand, I'd love to see the Cubs promote a number of relievers and use them liberally. Even though he only threw 93 pitches, Germano looked spent and if not for that crazy double play, Russell wasn't exactly convincing as he tried to clean up Germano's mess.
Off The Field
The Cubs fired Oneri Fleita on Wednesday. It seemed like something more had to happen after the Cubs promoted Tim Wilken to special assistant to the President & GM; a previously non-existent role, continuing Theo's re-organization of the front office. Fleita had been with the Cubs since 1995 in a number of different roles, most recently responsible for the minor development program. But as we are now roughly 9 months into the Epstein tenure, it seems as though Theo's baby is taking shape. The new regime is sifting through Hendry's leftovers and throwing out what they don't like.
FYI – Marmol and Soriano have both cleared waivers, if that matters to you.
Drug suspension by the Bay – Melky Cabrera was saddled with a 50-game suspension. He tested positive for elevated levels of testosterone. Cabrera is the NL's second leading hitter (behind the Pirates' Andrew McCutchen), and was the All-Star Game MVP. Apparently he can't afford Ryan Braun's team of lawyers. Baseball dodges a bullet here on a couple of fronts – apparently Cabrera dropped his grievance and agreed to serve the suspension (he could've dragged this out until the playoffs were much closer), and because of that he won't have enough ABs to qualify as a batting champion (as if the reigning MVP having to fight a suspension wasn't bad enough – it might've been an ACTIVE batting leader fighting a suspension). Barry Bonds was unavailable for comment.
Like what you see here? Never miss new content. Follow Us: