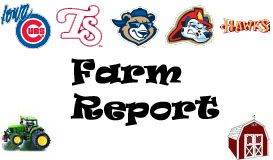 Today I thought I'd list the prospect  that interest me the most. May not be the best, just those that I like to follow  for some particular reason. The list, with nary a pitcher:

1) Javier Baez: The highest offensive ceiling in the system and he might even be able to stick at shortstop, Baez was recently ranked as the 15th best prospect in baseball by Kevin Goldstein. Good overall numbers on the year, but the BB/SO numbers show how aggressive he is.
2) Dan Vogelbach: How can a 19 year old, former 280 pound, power hitter not be interesting? I don't think anyone knows his true weight these days; I've seen it written that he's lost any where from 30-60 pounds since high school. But he's still big, he's still just a 1B (if that), and he'll need to keep hitting to get any love in the Top 100 lists. 15 home runs  in under 200 plate appearances is a good start. Noah profiled him here yesterday.
3) Jorge Soler: The $30M man had a grand slam over the weekend while playing for the Peoria Chiefs. He makes a third straight player where power is his best tool. Soler is off to a good start with Peoria; 5-14, 1 homer, 6 RBI, 2 walks, 0 K's.
4) Albert Almora: He will begin his Boise career on Wednesday after going on a hot streak down in Arizona. There is a chance next years Peoria team will have Vogelbach, Soler, and Almora in the lineup, unless Soler starts in Daytona, where I'm assuming Baez will begin. Either team will be fun to watch.
5) Matt Szczur: I was not his biggest fan coming into the season. He was coming off a terrible 2.7% walk rate in 2011 but completely shocked me by putting up a rate over 13%. He makes contact, he has good speed, he's starting to walk….good progress, I think.
6) Ronald Torreyes: I feel like he's underrated. He's one of the youngest players in the league. He's hitting 268/330/391. The league average is 252/333/375. He hit .370 and .356 the last two seasons. He's hitting .323 in the 2nd half of the season. He has more extra-base hits than he does strikeouts. And he's listed at 5'9″, 140 lbs in some places, so he'll probably come off as "grindy" or something.
7) Gioskar Amaya: He's got some speed, he's got some power. He hit .377 last year and .311 this year. Peoria's 2013 second baseman?
8) Junior Lake: Never been a big fan. But he started off with a pretty significant number of walks, so it seemed  he may  have pulled a Szczur. But that's come falling steadily down. His 284/339/428 looks ok, but he still strikes out a lot, isn't a very good infielder despite a cannon for an arm, and has struggled with base stealing. Still can't love him like it seems many Cub fans do.
9) Jeimer Candelario: Loved him last year. A switch hitting 3B who drew more walks than K's? Heck yeah. He went from having an excellent BB/K ratio to a decent one. I'm guessing he's Peoria's 3B next year. I'm going to have to get me some tickets.
Like what you see here? Never miss new content. Follow Us: