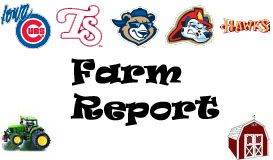 So apparently Brett Taylor over at Bleacher Nation and I had the same idea this week. On Sunday I decided that the most interesting prospect to write about this week would be first baseman and 2011 second round draft pick Dan Vogelbach. And what does Brett do? He beats me to the punch and posts an excellent article on Vogelbach on Monday! As such, I apologize in advance for any overlap.
As Brett noted on Monday, Vogelbach has been absolutely crushing the ball since appearing in official games starting in June. In 115 Arizona Rookie League plate appearances, Vogelbach posted a fantastic .324/391/.686. He's only been better since moving up to short season ball as a Boise Hawk, hitting a fantastic .347/.405/.750 in 79 plate appearances.
Here at VFTB, we were big fans of Vogelbach coming into the season, rating him the Cubs' number four prospect behind just Brett Jackson, Anthony Rizzo and Javier Baez. Just after the draft and the Cubs' signing of Jorge Soler, though, I was down on Vogelbach. And I wasn't alone.
Throughout the extended spring training schedule, Vogelbach really struggled. And it wasn't just that the numbers were bad. Only one national prospect writer, the Arizona based Keith Law, saw him more than once while in extended spring training, and he said Vogelbach looked overmatched by good fastballs. For those of you who aren't Law fans, Arizona Phil was not reporting things that made it seem like Vogelbach was just going to turn it on like this.
So what happened? Why did Vogelbach look so bad in expanded spring training, and so good once the games officially started? First, I'd like to dismiss the theory that Vogelbach needed real game action to turn it on. If that is what someone really thinks, they should just say "we don't know, we'll never know."
The more plausible standard baseball theories could all be true: he just figured it out, he was dealing with injuries, etc. I have another theory: the Cubs wanted Vogelbach to work on his recognition of off speed pitches. Vogelbach spent all of extended spring training looking off speed first, so he was behind on the fastball.
That's all speculation, of course. But sometimes a little speculation is good fun. With that said, Vogelbach has definitely re-established his value. The fact that Vogelbach is, and always will be a player who provides all or nearly all of his value through his bat at the least valuable defensive position, he won't be competing with Baez, Soler and Albert Almora for the top prospect in the Cubs' system. But Vogelbach is in the next tier of offensive prospects with the likes of Matt Szczur and Jeimer Candelario.
Like what you see here? Never miss new content. Follow Us: