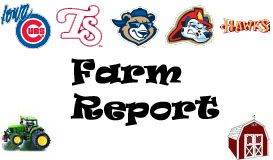 What a difference a few months make. The Cubs farm was ranked one of the worst heading into the season, and after one draft, international signing period, and trade deadline Theo and Co. have turned the farm around. The organization lacks pitching depth but has an abundance of up the middle type players and still has the Garza trade chip on the table this summer – if he can return from injury this year. This week we are taking an in-depth look at the 10 Cubs prospects I like the most, plus I'll rank the next 10 guys, and update a few guys who used to be on this list.
The Top 10
1. Javier Baez, SS – High A, Daytona Cubs
Age: 19, Height: 6′ 1″, Weight: 205
Bats: Right, Throws: Right
Grade: A
Why He's Here – He's a monster at the plate with elite bat speed and a ton of power potential. Baez had 10 doubles, 5 triples, 12 homers, and 20 stolen bases in only 235 plate appearances for Peoria before being promoted to High A. Recent scouting reports say he's been much better defensively at shortstop than expected with a legitimate shot at staying there, but if he has to move he will be a very good defensive 3B. He's shown great instincts on the base paths but only has average speed.
What's Holding Him Back – Lack of plate discipline and a aggressive, showboat attitude. His OBP% looks better than it should because other teams keep hitting him due to his shenanigans on the field. He was hit by more pitches (10) than he walked (9) for Peoria.
2. Jorge Soler, CF – Arizona Rookie Ball
Age: 20, Height: 6′ 3″, Weight: 205
Bats: Right, Throws: Right
Grade: A-
Why He's Here – The 5-tool player term is thrown around too much, but Soler has a legitimate shot at developing into one. He has elite bat speed, strong hands, with the ability to spray balls to all fields. He showed a patient approach in the World Junior Showcase in 2010 and has reinforced that in limited plate appearances in rookie ball this year. Currently he's a plus runner – that could downgrade to above average if he bulks up – with a plus arm that should make him a good defensive outfielder – the question is will he fill out too much and be forced to a corner instead of centerfield. In CF he should be good, but in RF he'd be gold glove caliber.
What's Holding Him Back – Very raw with quite a bit of rust. Soler basically didn't play baseball for 2 years while defecting from Cuba and (finally) establishing residency in Haiti. He has some holes in his swing but all the tools for a good player are there, he just needs the time to put them together.
3. Arodys Vizcaino, RHP – Disabled List
Age: 21, Height 6′ 0″, Weight: 190
Bats: Right, Throws: Right
Grade: A-
Why He's Here – Has top rotation stuff featuring a mid 92-96 fastball, a filthy curveball that has a lot of hard, downward movement, and a solid changeup that he utilizes versus lefties, with plus control of all 3 pitches.
What's Holding Him Back – Injuries. A ligament injury from 2010 returned forcing Vizcaino to undergo Tommy John Surgery before the season. TJS should not affect his velocity, but command and control will be a concern. Durability issues could also force him into the BP where he could be an elite late innings pitcher.
4. Albert Almora, CF – Arizona Rookie Ball
Age: 18, Height: 6′ 2″, Weight: 180
Bats: Right, Throws: Right
Grade: A-
Why He's Here – The Cubs top pick in the 2012 draft has lots of above average tools with a very high floor. Almora is a potential 4-tool player that will lack power with his smaller frame. He should play elite defense at a premium position as he's shown great instincts and speed to more than hold his own in centerfield. He has a very advanced approach for his age and should hit for very high average. He's as close to a sure thing major leaguer as you can get from selecting a high school player in the MLB draft.
What's Holding Him Back – Just turned 18 in April so he's a long way off, but he should move quickly as most of his tools are very advanced for his age. While he has a high floor he also has a lower ceiling without much power potential.
5. Matt Szczur, CF – AA, Tennessee Smokies
Age: 23, Height: 6'1, Weight: 195
Bats: Right, Throws: Right
Grade: B
Why He's Here – Having a breakout season at Daytona and before being promoted to AA. Szczur has more than doubled his BB% from last year and was 7th in the FSL in OBP% despite a very slow start and a minor injury that sidelined him for two weeks. Szczur shows the ability to hit for high average with plus speed and good defense in centerfield.
What's Holding Him Back – Football and a lack of power. Playing football full time at Villanova has Szczur behind the curve. He's just now getting to AA where he will be put to the test by players of his same age. His "slap-hitting" approach has many viewing him as a 4th outfielder but if he keeps showing the plate discipline we've seen this year and with his speed and good defense in CF, he should be a solid everyday lead-off hitter who will steal a ton of bases.
6. Brett Jackson, CF – Chicago Cubs
Age: 24, Height: 6′ 2″, Weight: 210
Bats: Left, Throws: Right
Grade: B
Why He's Here – Above average secondary tools across the board at a premium position. Jackson, like Almora, has a bunch of above average tools but no elite skills. He won't be the defender Almora will be but Jackson has shown great plate discipline and projects as a 20/20 guy.
What's Holding Him Back – His bat is subpar. While he has great secondary tools, the most important tool is lacking. He doesn't have any holes in his swing nor does he chase bad pitches very often – he just swings and misses the ball a lot. He's going to strike out a ton, and was doing so at an alarming rate at AAA before being called up a couple days ago, but given everything else he brings to the table, he should still be very valuable as a starting centerfielder.
7. Josh Vitters, 3B – Chicago Cubs
Age: 22, Height: 6'2″, Weight: 200
Bats: Right, Throws: Right
Grade: B-
Why He's Here – Stellar year that has put him back on the radar as he's still only 22 and ready for the majors. He's always been able to hit, but now he's showing some of that power that was expected when the Cubs drafted him third overall in 2007. He set a career high for doubles, walks and was one shy of his career high HR total, with a month left to go.
What's Holding Him Back – Despite the improvements, he still hasn't defined the strike zone. He swings at too many pitches out of the zone and his developing power could just be due to the heavily offensive PCL. His defense at 3B needs a lot of work and he may have to move to LF or 1B where his bat does not profile as well.
8. Christian Villanueva, 3B – High A, Daytona Cubs
Age: 23, Height: 6'1″, Weight: 220
Bats: Right, Throws: Right
Grade: B-
Why He's Here – Hits for high average, good plate discipline, and plays good defense at the hot corner after being converted from shortstop. He should be a solid everyday player with the potential for something more if he can develop power.
What's Holding Him Back -Needs more time to develop after being signed out of Mexico but he is old for his league. Time will tell if his skills will hold up when he progresses to higher levels and faces advanced pitching.
9. Welington Castillo, C – Chicago Cubs
Age: 25, Height: 5'10", Weight: 210
Bats: Right, Throws: Right
Grade: B-
Why He's Here – Strong armed catcher with big power. Rarely can you find an offensive threat behind the plate that will be good defensively but we've had Castillo waiting in the wings for a few years now.
What's Holding Him Back – Lack of consistency with the bat and durability questions. He had a couple down years at AA and AAA that was worrisome but the main concern is he just can't stay on the field.
10. Jeimer Candelario, 3B – Low A, Boise Hawks
Age: 18, Height: 6′ 1″, Weight: 180
Bats: Right, Throws: Right
Grade: B-
Why He's Here -Advanced approach for his age. He works counts, can hit for high for average and is a switch hitter who has shown power from both sides of the plate.
What's Holding Him Back – His lack of athleticism could force him off 3B even before considering he still has a long way to go before he is done growing.
The Next 10
11. Pierce Johnson, RHP – No. 2 type potential who would have gone higher in the 2012 draft if it wasn't for a forearm injury. Has two plus pitches, a mid 90s fastball and a nasty slider. Also uses a changeup that needs work for the majors but has shown solid command of all 3 pitches.
12. Gioskar Amaya, 2B – Amaya has shown an elite hit tool with good power in the low minors. Looks as though the Cubs have already relegated him to second base this year after he split time at SS, 3B and 2B last season. Being stuck at 2B already drops his value as there's nowhere else to move to.
13. Ronald Torreyes, 2B – Similar to Amaya but without the power potential. Small guy with a big bat, he has to keep hitting at an elite rate if he's going to make it to the majors as he's already a marginal defensive player. He had a terrible start to the year but he's posted over a .900 OPS since June to bring his numbers back to respectability.
14. Paul Blackburn, RHP – The other supplemental first round 2012 pick, Blackburn utilizes a fastball that sits at 92 and has two effective secondary pitches in a curve and changeup that should continue to develop. Has a repeatable delivery and he's very athletic that keeps him in or around the zone. Potential No. 3 starter.
15. Junior Lake, SS – Super tools but very raw still. It seems as every year he's mentioned as a major prospect due to his ceiling but he's made very little progress to get there.
16. Duane Underwood, RHP – 2012 second round pick out of high school, has a large frame and projects as a mid-rotation starter. Very athletic with a quick arm. Hit 97 on his fastball going into the draft but never had the need to work on secondary pitches.
17. Dillon Maples, RHP – Above average FB that sits 92-94 and a good hard curveball but health is a major concern for the 2011 14th round pick that the Cubs paid 2.5M to lure away from UNC. He's been very wild (4 BBs, 2 WPs, 2 HBPs) in only 2.2 innings pitched at rookie ball after returning from an arm injury earlier in the season.
18. Arismendy Alcantara, SS – Slick fielding SS who showed significant power in the pitcher friendly FSL this year. He needs to work on his throwing mechanics but he has the glove to stay at short long-term. Like pretty much every Cubs prospect his weakness is his aggressive approach. He's only walked 19 times in 359 plate appearances for Daytona (5.2%). A leg injury has shelved him for the rest of the season but he should start at AA next season now that Baez has been promoted to A+.
19. Dan Vogelbach, 1B – Huge power – most in the Cubs entire system – but he has the body and defensive ability of a DH.
20. Austin Kirk, LHP – Lacks raw stuff but has good command and control of his pitches. In High A this year he's carrying a 3.13 ERA with a 3.52 FIP and has drastically reduced his HR/9 from 1.01 last season to 0.21 this year. However, his K/9 has also dropped down to 5.43 (7.27 last year) while his BB/9 has gone up to 3.34 (2.26 last year). Should be in AA to start next season where we will see if his lack of raw stuff will start to hurt him versus more seasoned hitters.
Where Are They Now?
Trey McNutt, RHP – His numbers don't look that bad but they do not match the results. Inconsistent control, and a penchant for giving up the HR has forced McNutt into pitching long relief out of the bullpen. He has the arm but is further away from putting it all together than he was to start the season. Given the Cubs lack of starting pitching in the upper minors, he should get another shot at being a starter next season.
Ben Wells, RHP – High ceiling arm but had to undergo Tommy John Surgery after only 40IP this season. Before the injury he was showing better command of his secondary pitches and that showed in his results as he was posting a much higher K/9 with a lower BB/9 and HR/9. Potentially a #2 or 3 starter before the injury.
Jae-Hoon Ha, CF – On the bright side he's starting to take walks which he has never done in the past however he's also increased his K%, his average has dipped (despite a higher BABIP), and the little power he had shown in high A has disappeared… and that was before he crashed head first into a cement wall that has landed him on the disabled list.
Our best prospects are still in the low minors and have a loooong way to go before contributing to the big league team but we are bristling with up-the-middle position players who should be filling out the lineup in 2015. My biggest concern is the lack of plate discipline throughout the organization. As we've seen with Vitters and Castro, aggressive young hitters rarely develop a patient approach. On the pitching front, the system needs an injection of pitching prospects, which hopefully a Garza trade would bring premium pitching in return. I don't mind the lack of elite pitching prospects as it's a smarter bet to stock up on position players than pitchers as the risks are less and the chance that position players reach their ceiling is greater. However, the organization needs enough arms fill out the back of the rotation and bullpen which the Cubs cannot do currently. The team should have an abundance of position prospects that we can flip for pitching and a fat wallet we can open up to lure the front-line pitching we lack, once the team is ready to compete.
Like what you see here? Never miss new content. Follow Us: