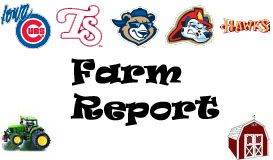 With a flurry of activity in recent weeks, 6 of the top 20 sluggers from the minors are currently on the big league team; Anthony Rizzo (1), Josh Vitters (5), Luis Valbuena!! (7), Adrian Cardenas (12), Brett Jackson (13), Welington Castillo (18).  This is a reminder of what minor league stats say about future MLB performance…not much. Not when Luis Valbuena is slugging .500.
The top 20 (minimum 150 PA):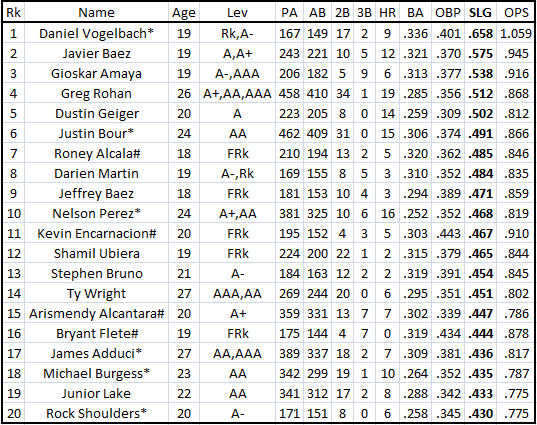 For all the talk about the year Javier Baez is having, Dan Vogelbach is having a pretty successful season. He leads the organization in slugging and is on his way to a nice first year and a place in Peoria next season.
Javier Baez will be next year's #1 Cub prospect and is one of the best hitting prospects in all of baseball.
Gioskar Amaya was a surprise to me. The second baseman's slugging isn't driven by power as much as it is by speed and his nine triples. It seems odd seeing a player with more triples than doubles and he'll likely join Vogelbach in Peoria next season.
I went 20 players deep on this list so I can include 2012's winner of the greatest name in all of minor league baseball, Rock Shoulders. He took 60% of the vote to beat the Texas Rangers Rougned Odor in the finals.
Like what you see here? Never miss new content. Follow Us: