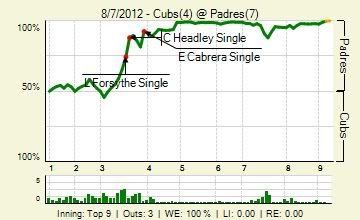 Cubs 4 @ Padres 7
Box Score / Highlights / Condensed Game
The 2012 Cubs are unwatchable on the road; but they're a wild card team at home. Don't believe me? 16-41 on the road, a .285 winning percentage. At home? 27-24, a .529 clip. That home percentage would slot them in ahead of Tampa Bay in the AL playoff race. Maybe they should start wearing pinstripes to away games.
The Game
Oh, that's right – this is a recap. Nothing much to see here. Brooks Raley gave the Cubs what you would expect, 4 innings of extended batting practice for the Padres. Pitching against players who had mostly never seen him before, in perhaps the most favorable pitchers park in MLB history – Raley was unbelievably predictable. Quentin's 3-run bomb sealed the Cubs' fate early.
You Knew It Was Over…
If you were awake and holding out any hope after the Cubs dug a 4-run hole in the third, that was gone before 6 more outs could be completed. Leading off the 4th, contact-averse Brett Jackson drew his one walk of the evening (and in doing so saved himself from a second consecutive golden sombrero – just barely). Castro hit a bullet to center – it was caught, and Rizzo lined into a sharp double play at short. Vagaries of line drives. Two hard hit balls and the Cubs got nothing; before the bottom of the fourth ended, the deficit ballooned to 7-0 and the only intrigue left – for me anyway – was whether or not Keith Moreland would stop saying 'Bev-i-LOH' and correctly say 'Bel-i-VOH'…he eventually got it right, on accident I think. Only a pinch-hit two-run double from Vitters made it look respectable.
Like what you see here? Never miss new content. Follow Us: