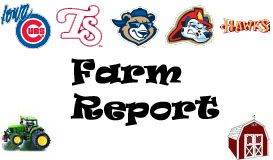 There are not many prospects in the Cubs' system that I have been following with interest since the beginning of the season and have not written about to this point. Outfielder Michael Burgess is one of those prospects.
Burgess, the 49th overall pick in the 2007 amateur draft, was the biggest name the Cubs received in return for Tom Gorzelanny in the trade that sent the southpaw to the Nationals prior to the 2011 season. An athletic left handed corner outfielder with some power and the ability to draw walks, Burgess was a ceiling pick up. Prior to this year, Burgess' best had been 2010, his final season with the Nationals. That season, Burgess posted a .265/.357/.465  with 18 home runs over 529 plate appearances across High A  and Double A.
The knock on Burgess was always that he struck out a lot. Prior to joining the Cubs, he had struck out in about 25% of his minor league plate appearances. Unfortunately, that continued with the Cubs in the 2011 season. Burgess struggled in his first season in the organization, striking out in 22.4 percent of his plate appearances while posting a .225/.323/.427 for the High A Daytona Cubs. While Burgess's BABIP was a low .253 in 2011, no one really viewed him as a legitimate prospect at the beginning of the season due to the strikeouts. Baseball America did not even list Burgess on the Cubs' minor league depth chart.
The 23 year old has had a much more successful campaign as a 23 year old in Double AA Tennessee this season. In 337 plate appearances, Burgess is hitting .265/.354/.439 with 10 home runs. While the BABIP has been improved at .297, it is not anything out of the ordinary. The big difference, and the big number that has been encouraging, is that Burgess has dropped his strikeout rate to a career best 16.6%. While Burgess is by no means an elite prospect, he has turned himself back into a legitimate prospect this season.
Moreover, unlike some of the Cubs' outfielders in the upper minors (I'm looking at you Tony Campana and Dave Sappelt), Burgess has the potential to be a legitimate Major League starter. It's unlikely that Burgess will ever be a star, but at worst he looks like the best in house option for a stopgap in right field between the eventual exit of David DeJesus and the heavily anticipated arrival of Jorge Soler.
After not even being considered a prospect a few short months ago, though, Burgess has turned himself into a prospect again. He will likely be in most Top 20 organizational lists, and could even sneak into the very back of a couple of Top 10s based upon a solid ceiling and his proximity to the Majors.
Like what you see here? Never miss new content. Follow Us: