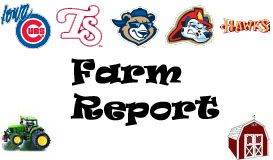 It wasn't as much as we all hoped due to, let's just call it, miscommunication between the Cubs and Dempster along with the injury to Matt Garza, but the Cubs added five players to the minor league system during this year's non-waiver trade season.
The first hug went to Reed Johnson, who we later found out was sent to Atlanta with Paul Maholm for:
Arodys Vizcaino – A 21 year old right hander who hasn't pitched this year due to Tommy John surgery, he was Keith Law's #14 prospect coming into the season after posting solid numbers in 2011 as a 20 year old rookie. He was in line to compete for a spot in Atlanta's rotation before being shut down. He also had an elbow issue in 2010, so the injury factor is a real concern.
But he's also an electrifying pitcher; able to maintain a fastball in the 95-96 range according to Fangraphs 2011 numbers. Of course, that was in relief, so he may lose a tick or three. His next pitch is a hard curve ball that will help him succeed in short outings, but the third pitch will likely be the deciding factor in him being a starter or reliever….if it all clicks, Vizcaino has the potential to be a nasty top of the rotation pitcher. We'll probably see him in 2013.
Jaye Chapman – Chapman is a 25 year old relief pitcher in AAA. He strikes guys out, walks a bit too many to be considered elite, and doesn't have much upside. He is good against righties, so the Cubs may have gotten a useful bullpen piece for the next few seasons. He'll likely compete for a bullpen spot next year.

Not so long later, Geovany Soto was shown hugging teammates because he found out he was moving to Texas. In return comes:
Jake Brigham: 24 year old starting pitcher currently in AA, he's a back of the rotation candidate. Which is pretty poor return if this were 2010 Geovany Soto. But this is 2012 Geovany Soto, and he's a guy that's going to be non-tendered after the season, so getting a potential back of rotation arm, maybe even just a bullpen arm, at pre-arbitration pricing for 3 years is a solid return for 2012 Geovany Soto. I'd guess he's in AAA for most of 2013 and a chance to see him regularly in 2014.

Then the Demspter craziness. All day long, Dodgers, Dodgers, Dodgers. Then in the last 15-20 minutes it's the Yankees. Then the last 5 minutes it's the Rangers that ninja their way in and get Dempster for:
Kyle Hendricks: An extreme control pitcher, Hendricks walks just 1.03 batters per 9 innings. He strikes out a decent amount, but he throws just 87-91 so might not be able to get that by more advanced hitters as often as he does in A ball. Barring some bizarre improvement, I'd think the earliest Hendricks make an appearance is 2014, more likely 2015.
Christian Villanueva: He's got an interesting stat line  in 2011 for a 3B with over 15 homers and 30 stolen bases…and by all account he plays good defense at the hot corner. The scouts aren't high on him and the numbers aren't spectacular, but he seems like he'd be a fun guy to watch on the minor league level and there is some potential here as an everyday player. He'll be ready to compete for a spot in 2015 if he progresses a level per season.

These guys aren't Randal Delgado but this is the best The Front Office could do. I think it beats a supplemental draft pick in 2013 if Dempster were to reject the Cubs qualifying offer this offseason (although, I'm not sure the Cubs would put in a qualifying offer) and the Cubs simply had no leverage here.
It wasn't the deadline day I was hoping for, but Vizcaino is probably still a top 100 prospect they obtained for about $4 million and Villanueva might sneak on the top 100 list as well. The more back of rotation/bullpen arms you throw in the system, the better your chance one breaks through.
Like what you see here? Never miss new content. Follow Us: