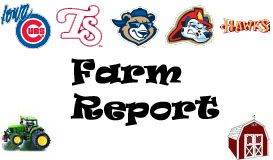 Albert Almora, the Cubs' first round pick from this June's Rule 4 draft, has been getting his feet wet in the Arizona League for his first professional action.  As we discussed with Jorge Soler last week, his hitting line at this point means nothing due to a tiny sample size and this should only be a short stop for Almora before moving on to Boise or Peoria (I'd bet Boise).
But, for those of you who would like to know, through 21 plate appearances Almora has a .190/.190/.429 line.  Don't let that concern you.  Almora has only struck out in one of those plate appearances, so a lot of is just balls not finding holes.  Plus, tiny sample size.
While a little bit of playing time in Arizona doesn't tell us much about Almora, here's a fun video of his first professional home run.
 As for Soler, he's got his numbers up to .296/.345/.556 in 29 plate appearances.  By all accounts of anyone who has seen him, he's looked good even though the numbers won't tell us much at this level.
Like what you see here? Never miss new content. Follow Us: