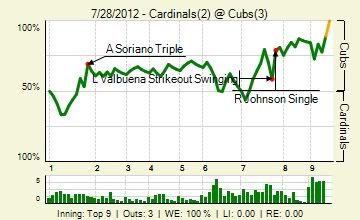 Cards 2 @ Cubs 3
Box Score / Highlights / Condensed Game
This was a game of two important innings, so let's get right to it.
Top of the 1st
Samardzija was erratic from the opening pitch. None of his first seven offerings found the zone, by his 16th pitch he'd walked the bases loaded without recording an out. Inexplicably the combination of Beltran, Berkman and Molina opted to swing at 5 of the 6 pitches they would see. Two groundouts and one strikeout later, Samardzija was out of the inning with the Cubs down only 1-0.
Bottom of the 1st
The Cubs struck back immediately. DeJesus singled, Castro doubled, and after a Rizzo popout, Soriano tripled to give the Cubs a 2-1 lead. This sequence bailed out Samardzija and seemed to settle him in – at least a bit.
Bottom of the 7th
Leading off the 7th in a tie game, LaHair drew a walk and was immediately removed for pinch-runner Campana. Everyone knew Fast Tony was going to try and steal second, the Cards were trying to hold him close. But Campana took yet another base this year off of the great Yadier Molina. Soto singled to right, and with none out the Cubs had runners at the corners. Impatient Jeff Baker, not wanting to take advantage of Joe Kelly's 7th innning wildness, lined out on the first pitch he saw. Brian Fuentes was brought in, battled Luis Valbuena, and won – two outs.
Reed Johnson had been paying attention, though. Utilityman, Matt Carpenter was at 3B today for the Cards. With two outs and Carpenter playing deep at third, Johnson caught the Cards off guard by bunting the first pitch he saw from Fuentes. After the game Dale would indicate that the bunt was NOT called for from the dugout. Not a very pretty bunt, it was however very effective. Johnson's sand wedge popped up but died before anyone could catch it; halfway up the third base line, too far to make a play on either Johnson or Campana. The Cubs led 3-2 and the bullpen would eventually slam the door.
Castro's Single
After Johnson's squeeze, DeJesus drew a walk from the rattled Fuentes. Castro then with two strikes hit a slow grounder to short. He beat the throw at first but was nevertheless called out. Cub partisans collectively went crazy. Castro was as demonstrative I've seen him; replays showed Pat Listach's disbelief from across the diamond at third. In real time I think it looked closer than it actually was, in part because of how Castro stretched for his final step and then quickly came to a stop. But he was undoubtedly safe. It's this type of play, in my opinion, that baseball needs to use replay on. There is zero reason to get it wrong. And the time that it took for Dale to come out of the dugout, argue with first base umpire Mike Winters, and eventually get tossed from the game was far longer than it took for replays to reach a conclusive decision on what should've been a run-scoring play.  (Watch how Berkman 'sells' the call even after Winters had punched out Castro – that should've been a big hint that Winters had blown the call)
It's prudent to remind you now that in the last three games the Cubs have had a HR overturned by an umpire and then incorrectly confirmed as a ground-rule double by replay; and now a clear-cut run-scoring play wiped away by another erroneous call. Two bad calls, one replay, Cubs get screwed both times.
Samardzija
Not his best outing, but with a little help from the anxious Cardinal hitters he managed the damage quite well without his best stuff. He only threw first pitch strikes to 12 of the 27 batters he faced, only 58 of his 104 pitches were strikes, and in his final inning (the 6th) he faced six batters and each of them started with a 1-0 count. He wasn't around the strike zone much, but he cobbled together 6 decent innings of work.
Offense
Take a bloody pitch! In 11 different plate appearances, a Cub swung at the first pitch he saw. In 32 total PAs on the night, the Cubs only saw 116 pitches. For comparison, the Cardinals had 37 PAs and saw 151 pitches. Only their pitcher saw fewer than 10 pitches; meanwhile Soto went to the plate 3 times and saw only 6. The useless Jeff Baker saw 9. It's maddening. Rizzo gets a new pitcher (a LHP) to start the 8th, swings at the first pitch – misses – and then makes a horrible bunt attempt to first on which he was easily retired. At-bats like that will only lend more credence to the notion that he needs to sit against lefties.
Ultimately, though, the Cubs beat the Cardinals – so none of that other stuff really matters.
Like what you see here? Never miss new content. Follow Us: