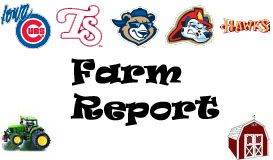 Over the last few years, Cubs fans have been "treated" to a couple of guys that many consider too old to be considered a prospect that have come up from the minor leagues and contributed to the big league team. One good…and one bad. Who is the next to fill that role?
At the age of 28, Micah Hoffpauir came up to the Cubs in 2008 and saw 80 plate appearances to the tune of .340 / .400 / .534 with 10 extra base hits. Immediately he stole hearts of many Cubs fans who made him their boyfriend only to come back in 2009 and 2010 and produce poorly before leaving to play in Japan. His performance left those fans feeling like they gave up their innocence only to be burned by the boyfriend who moved on to the next person with no regards to what they had. As of the 23rd, here are his numbers in Japan:
Let's just say his performance leaves something to desire. It's no wonder Cubs fans were a bit apprehensive when it came to the hype surrounding Bryan LaHair when Theo and Jed announced that he was going to win the job out of spring training at first base, blocking the prized prospect, Anthony Rizzo. It's no wonder they felt like they would give their hearts to another only to once again have them broken by an older player considered a non-prospect due to his age. His story has been different. His stats have not dipped. He's maintained his offensive production despite, for the most part, being a dud in the field. That got me wondering who are some other names down on the farm who are a little older that may eventually get to the Majors to make an impact, even if it's later in their baseball careers.
A quick look through the system reveals seven names that have seen a decent amount of plate appearances this year that are old enough to probably take the prospect tag off of. Let's take a look at them.
Alfredo Amezaga – I actually almost excluded him from the list because of the fact that he's seen the most service time in the Majors of all the people on the list combined, but I included him for one reason. Rumors are swirling that the Tigers are interest in the services of Darwin Barney. If he goes, it means there is a spot for another infielder to be called up. I don't anticipate it would be Amezaga, considering he's not even on the 40 man roster, but if we're searching for the next LaHair, we're going to turn over rocks with nothing under them.
James Adduci – The outfielder has spent nine seasons in the minors and the only thing that the Evergreen Park, IL native has to show for it is the fact that his dad still leads the Major League hit contest 34-0. He's a speedy outfielder with a little more power than Tony Campana, which isn't saying much. He's hitting the ball well this year, but he'd need to see someone removed from the 40 man roster to get his chance. Best case scenario for Jimmy is that somehow he catches the eye of Theo and Jed. Worst case scenario is he catches the eye of Katie, who has a thing for speedy little outfielders.
Matt Tolbert – 30 years old, hitting .249 with no power at third base. Yeah, no thanks. We can get crappy production like that from Luis Valbuena. Moving on.
Rebel Ridling – About three years ago I interviewed Ryan Flaherty and I asked him to name a teammate that people wouldn't know much about who fans should watch. His answer was Ridling. This year he's failed to produce, but it appears he may be plagued by the dreaded every other year syndrome so I'm willing to be patient for one more season.
Ty Wright – He's not really been considered a top prospect in quite some time. Drafted out of Oklahoma State University by the Cubs in the 7th round in 2007, Wright has put up decent numbers over his career in the minors. In six seasons, he's hit .296 / .356 / .434. He just hasn't done anything to stand out and it's got to be frustrating for him to produce nicely and not get a look.
Greg Rohan – See Matt Tolbert
That brings us to our last possible option for the next Bryan LaHair
Blake Lalli – Of all the names on the list, Lalli is the only one on the 40 man roster, which explains why he's the only one who has seen any service time with the big club this season. Unfortunately, in six games he managed just two hits and was passed over in favor of Koyie Hill as the backup catcher at one point this season. When you see that sentence in a summary of a player, it's safe to say there is not much in his future.
So there you have it. A look at the farm system shows very few prospects capable of being the next Bryan LaHair. On the positive side, I think we did locate seven seriously capable of being the next Micah Hoffpauir. That's always nice…everyone likes Hoffpauir.
Like what you see here? Never miss new content. Follow Us: