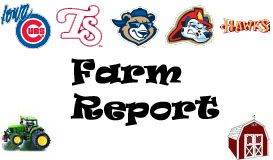 Usually I use this space to talk about at least a few prospects at a time.  However, it's rare occurrence for someone who could be a No. 1 prospect in an improving farm system to make his professional debut. And we're going to have it two weeks in a row. Late last week, Cuban phenom Jorge Soler debuted with the Arizona Rookie League Cubs. And first round pick Albert Almora started his professional career in the Arizona League on Monday night.
How good are these two guys? Well, heading into this season a lot of optimistic Cubs fans were envisioning a future starting outfield with Brett Jackson and Matt Szczur manning two of the three positions. After bringing Soler and Almora into the system, it isn't clear that Jackson or Szczur will have an available position by about 2015.
As of writing this piece, Soler has only played in two games and had 7 plate appearances, so the statistics don't really tell us anything, although Soler's Rookie League statistics won't tell us anything (he SHOULD be above the talent at the level), and he should only be in Mesa for a few weeks.
This is also the first truly live pitching and competitive baseball Soler has faced in more than a year, so it would not be a surprise if his timing is off a bit. However, as Joe let us know yesterday, Keith Law saw Soler in person at his debut and liked the swing. It's good to hear someone's initial description include both explosive hands and the ability to generate power with his lower body.
Soler hit his first professional home run on Sunday, which was definitely of the crush it and get out of the park quickly variety. A video is available here. Hopefully it will be the first of many as Soler quickly moves through the Cubs system. I'll look at Almora next week, but will also provide a brief update on Soler when we'll at least have double digit plate appearances to look at. Also, for those of you who may be wondering, the guy Soler knocks in with that home run is 2011 second round pick Dan Vogelbach.
Like what you see here? Never miss new content. Follow Us: