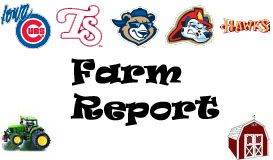 It's about time for another update on VFTB's Top 20 Prospects. The position prospects are doing pretty well while the results have been ugly on the pitching side. The past draft hopes to rectify that as the Cubs signed a number of high upside arms led by Pierce Johnson, Paul Blackburn, and Duane Underwood.
First, the hitters: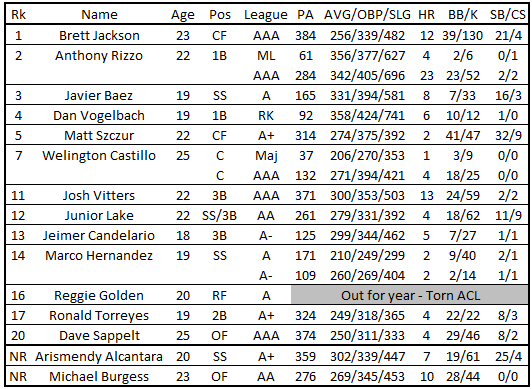 Despite all of Brett Jackson's strikeouts, he's been producing in the PCL. I just don't think he'll be able to produce like that in the majors with a K rate so high. Shades of Dallas McPherson, if you're familiar with him.
The top two picks of the Cubs 2011 draft, Javier Baez and Dan Vogelbach, are both crushing the ball in the early stages of their careers. You'll see Baez somewhere around the Top 25 Prospects in the game when next years Top 100's come out. Kevin Goldstein recently said he's become the top offensive prospect in the Midwest League with scouts putting a 70 on his hit and power tool.
Although Vogelbach is hitting, you won't see him on any Top 100's. As a 1B only player, likely a DH, you really need to hit and hit and hit some more. He'll have to do this year in and year out for the pro's to believe.
Ahhhhh….Matt Szczur. Cub fans love them some Szczur. I admit, he's doing better than I thought he would thanks to a complete turnaround in his walk rate. Still doesn't have much power and needs to be in AA, but his stock is slightly up in my book.
Josh Vitters is also doing much better than I had imagined he would…his approach has always been the issue with him, and his walk rate isn't so terrible while keeping his K's in check. His BABIP is on the high side for him, so there may be some good fortune involved, but we'll see Vitters in Chicago by the end of the year.
Skipping down to Arismendy Alcantara…he's a guy I brought up on the last update that's really impressing. He's one of the younger guys in the league and has a chance to stick at SS and is on his way to a .300 hitting, 10 homer, 30 stolen base season.
And the pitching….
I'll start at the bottom with some pitchers who have jumped into the running for Top 20 for next year. Michael Jensen is one of the few Cub pitchers with a K rate over 7 per 9 innings. Not that impressive, but combined with a low home run rate and good walk rate, he's showing that he's someone to keep an eye on.
For everything I said about Jensen I can say about Nick Struck, but Struck is doing it in AA. The Cubs rushed him in 2011, giving him innings in High A, AA, and AAA where he struggled. Back to a more appropriate level in 2012, his numbers are promising.
Alberto Cabrera is a future bullpen guy; potentially in high leverage situations. Back in Spring Training he was throwing 95+ with good movement and he is just carving through hitters this season. Might see him this year and could be a fixture in the pen beginning in 2013.
In his 4th year in the organization, Jose Rosario is starting full time for the first time in his professional career and is not disappointing. We need to see what happens in higher levels, but he's putting up numbers in line with both Jensen and Struck, except that he's giving up a few more hits along the way.
Back to the top, Dillon Maples hasn't pitched yet as he's been nursing an injury. I believe he'll be throwing at some point in the next couple weeks. Trey McNutt was recently moved to the bullpen which was the expected path for him. Dae-Eun Rhee was a favorite of mine that has struggled in AA. One thing I noticed with him, McNutt, and Eric Jokisch; once they hit AA their strikeout rates plummeted. Gerardo Concepcion looks to be a bust; but he's young and I wouldn't give up on anyone until they have to. Dolis looks like he'll have a career as a RP so long as he can carry over those K's to the big leagues. Ben Wells was in the running as my top Cubs pitching prospect, but Tommy John ended his season.
Like what you see here? Never miss new content. Follow Us: