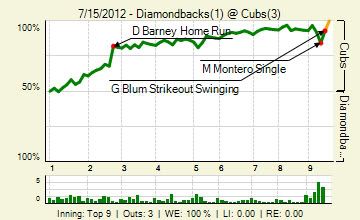 Diamonbacks 1 @ Cubs 3
Box Score / Highlights / Condensed Game
The Good
Early offense: David DeJesus led off the game with a walk and then moved into scoring position on a wild pitch two batters later, exactly the type of start that good teams take advantage of to stake an early lead. The Cubs, who are masquerading as a very good team of late, did just that as Anthony Rizzo knocked him home with a single. Unfortunately, Rizzo killed the chances for a first frame rally by attempting to stretch it to a double and getting thrown out at second. I appreciate his aggressiveness, but (without any statistical proof at all) I feel like I've seen Rizzo do this sort of thing too many times in his short career – just a minor complaint about St. Anthony, which may not even be based in fact. Darwin Barney then gave the Cubs all the offense they would need (and indeed would get) in the second inning, as he parked a Trevor Cahill offering in the left field bleachers for a two-run home run that gave them a 3-0 lead.
Matt Garza: Seven innings. No runs. Five hits. Seven strikeouts. The Cubs starting pitching has been phenomenal over the past few weeks, and today was no different. If The Theo is planning to flip up to 60% of the starting rotation for prospects in the coming weeks, his starting staff is certainly doing what they can to drive up their value. If there is a complaint, it's that Garza wasn't efficient, throwing 108 pitches through seven innings, but that is picking nits at this point.
SWEEP!!! The win over the D-Backs gave the Cubs their second sweep in their last four series, including two straight sweeps at Wrigley, where they've won eight of nine overall. While still 16 games under .500, there is no doubt that this team is succeeding at keeping this season from being rendered unwatchable. We'll see how long it takes for them to fall back to Earth, but in the meantime let's enjoy this run while it lasts and ask questions later.
The Bad
Losing the shutout: Shawn Camp gave up what is often described as a meaningless solo home run with two outs in the eighth inning, but with Carlos Marmol waiting to close the door, every run is sacred.
The Cubly
After being spotted one out by James Russell, Marmol was tasked with producing two outs to earn his 10th save. He immediately went up 0-2 on Paul Goldschmidt…then walked him. The Marmol sweats then started in earnest when Miguel Montero singled to put the tying run on base. There would be no ninth inning rally for Arizona though, as Marmol wrapped it up by striking out of Geoff Blum and taking a Gerardo Parra liner off the torso before recovering and calming tossing the ball to first for the final out.
Holy Cow…Cubs Win…Cubs Win!
Like what you see here? Never miss new content. Follow Us: