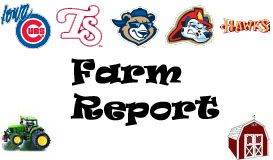 When a Major Leaguer gets injured, even when just an average starter gets injured, everyone knows about it. A fan knows if their number four starter, best left handed middle reliever or seventh hitter goes down. A big part of this glut of information regarding Major League injuries is that they are very well reported.
But that is not true about minor leaguer injuries. Matt Szczur, for example, missed a few weeks with a relatively minor knee issue in May and June. Despite Szczur's status as a fairly big name prospect, no one found out what was going on with him until about 2/3 of the way through his shiny on the disabled list. All we knew was that he wasn't playing.
As with every season, several Cubs prospects have had their 2012 seasons impacted by injuries. Some of them are recovering from injuries they suffered in 2011, and some of them suffered new injuries this season. Below are three of the more significant Cubs prospects dealing with severe injuries this season.
Robert Whitenack (RHP):  Two months into the 2011 season, Robert Whitenack looked like he was on his way to jumping into major prospect territory. The Cubs' eighth round pick in 2009, Whitenack put up fairly pedestrian 4.96 ERA over 103  and 1/3 innings at Low A Peoria to start 2010. Then he moved up to High A Daytona, and dominated, posting a 2.04 ERA in 39 and 2/3 innings to end 2010 and a 1.17 ERA in 23 innings to start 2011. He then moved up Double A Tennessee, and posted a 2.39 ERA. Unfortunately, Whitenacks' season ended prematurely with a torn right elbow ligament requiring Tommy John Surgery.
Whitenack returned from injury this May, and was sent to Daytona.  To this point, the results have been very up and down, but that isn't a surprise just over a year out from Tommy John. It typically takes two full years after Tommy John for a pitcher to be back up to 100%. Unfortunately, although admittedly obviously, Whitenack is two years older now. Even if he speeds through the system starting next year, a 22 year old pitching prospect moving quickly through a system is more impressive than a 24 year old putting up identical numbers. Considering the numbers he put up at the back end of 2010 and start of 2011, though, Whitenack is worth keeping an eye on.
Reggie Golden (OF): Golden, the Cubs' second round pick in 2010, was a raw but very athletic high school draftee. In his first significant professional action at Short Season A Ball in 2011. Unsurprisingly, Golden hit for a good amount of power for a 19 year old (.177 ISO) and struck out a lot (25.7%). Surprisingly, he also walked a lot (10.6%). The plate discipline was an unexpected and pleasant surprise for a prospect who was reportedly so raw before being drafted. As a result, Golden was a Top 20 Cubs' prospect for every major publication and scouting guru, and in the back half of the Top 10 for some.
Unfortunately, Golden only played in seven games in 2012 before his season was ended with a torn ACL. Much like Tommy John for a pitcher, a torn ACL for a hitter is an injury that now can often be fully recovered from… but it can take awhile for full recovery. While Golden is not in the range of the Cubs' top outfield prospects (Almora, Soler and Brett Jackson in particular), he has a high ceiling and an impressive performance as a 21 year old at Peoria could make him a big time prospect.
Ben Wells (RHP): Wells, another 2010 draftee, was selected one round ahead of Robert Whitenack. He introduced himself as a legitimate prospect in 2010 when he posted a 3.51 FIP at Boise as an 18 year old. While his strikeout rate was merely respectable at 6.17 K/9, he posted an excellent 2.21 BB/9 and induced a lot of ground balls.
As a 19 year old at Peoria this season, Wells was making a strong argument that he was the best pitching prospect in the Cubs system. He continued inducing a lot of ground balls, but raised his strikeout rate to a 7.88 K/9 while lowering his already impressive walk rate to under 2 walks per 9 innings, leading to a 3.60 ERA and 2.28 FIP.
Unfortunately, much like Robert Whitenack a season before, Wells' season has been derailed by an injury to his elbow necessitating Tommy John surgery.  Wells will be out until probably at least May of 2013. However, even if it takes Wells until 2014 to be back to 100% effectiveness, the right hander will only be 21 years old that season, the same age that Cubs' supplemental first round pick Pierce Johnson is now.
Like what you see here? Never miss new content. Follow Us: