I will never forget THAT game.
A little background, growing up as a Cub fan on the West Coast in the 80s was basically perfect. Imagine California weather and day games all summer long that start at 11am. Toss in the carefree nature of an early elementary school life – yeah, that's basically perfect. LEGO, backyard baseball, Cubs game, backyard baseball, LEGO…rinse repeat and get into trouble somewhere along the way – often.
It was no surprise then, that this barely 6-year-old was taking in another game with Harry and Steve on a particular July morning in 1987.
Dawson
What more is there to say about Andre Dawson? 21 years in the league but everyone remembers his 6 seasons in Chicago. Coming to the Cubs in unusual circumstances, he made his mark immediately. Baseball owners, with help from commissioner Peter Ueberroth, were colluding to keep down the rising price tag on free agents. MLB had only accepted, forcibly, the advent of free agency roughly 15 years earlier. The owners had attempted at every turn to turn back the clock – legally or not.
Lowballed by the Expos, Dawson didn't capitulate and accept 'reality' as many of his colleagues had done. He had dual motivation though, his knees could not last on the Astroturf in Montreal. So Andre targeted two teams – the Cubs and the Braves – and would aim to sign with one at all costs. His first choice was Chicago.
Show
Trivia – who is the Padres all-time winningest pitcher? Jake Peavy? Andy Ashby? Andy Benes? Craig Lefferts? No, no, no, and of course not. The answer is Eric Show. Does anyone remember that Show was hammered twice by the Cubs in the 1984 NLCS? Or that he was 100-87 with a respectable 3.59 ERA over 10 years in San Diego? Probably not. Eric Show is forever remembered for, in some order, 1) hitting Andre Dawson in the face, 2) dying of a speedball – one of the dumbest ways to OD, 3) his nasty mustache, and 4) giving up Pete Rose's 4,192nd hit, with which Rose passed Ty Cobb.
1987
Andre Dawson was in the midst of his greatest single season. After showing up to the Cubs' Spring Training complex with a literal blank contract for Dallas Green to fill in, the Cubs signed MLB's greatest one-year bargain. As a free agent, at a massive discount, Dawson would finish 1987 with an incredible 49 HRs and 137 RBIs – both of which led the league. He was mashing the ball, easily one of the most feared hitters in the NL.
Eric Show meanwhile was having one of his worst years. Other than two appearances at Dodger's Stadium, Show had not given the Padres what they'd come to expect from the 3-time 15 game winner.
When the Padres rolled into Chicago, Dawson greeted them rudely. Powering the Cubs to a 7-0 win with 2 HRs, 3 hits, and 4 RBIs, Andre gave San Diego nightmares. Show was out to exercise those demons a day later. In the first inning on July 7, 1987 he was unprepared – he served up yet another homer to the future HOFer.
Greg Maddux
What is Maddux doing, interjecting himself into the conversation at this point? He wasn't the Cubs ace – that was Rick Sutcliffe. In fact, Maddux was just a rookie on the cusp of being demoted. This wasn't the same Maddux that jilted was screwed by Larry Himes and bolted for Atlanta. Sitting at 5-7 with a 4.44 ERA, Maddux had been given a half-hearted ultimatum; start pitching better or be sent back down to the farm. It was young Greg Maddux who started for the Cubs on July 7, 1987.
The Pitch
Remember, 25 years ago if a player had hit three HRs in two days he could easily expect to be hit with a pitch. When Dawson stepped into the box in the bottom of the third, this wasn't far from his mind. Never though, could he have expected to take a pitch directly in the face. The first pitch of the at-bat nailed Dawson's left jaw/eye and knocked him to the ground. Visibly shaken, Dawson slowly staggered to his feet; his teammates did not. Rushing the field, most notably Sutcliffe and Shawon Dunston were ready to deliver a message. Show, seemingly understanding that pain was forthcoming quickly made for the Padres dugout. Eventually getting there, that didn't stop the most rabid of Dawson's teammates. Even then it was unusual to see players pursue into the opponents' dugout. Dawson managed to get to his feet and begin a search for the perpetrator. In his blood-stained jersey, he cut an imposing figure – I'm sure more than a few were hesitant to stifle his bloodlust.
Show was ejected, Dawson was out of the game either way. What remained was retribution.
Defending His Teammate
The little talked about by-product of Dawson's beaning – Greg Maddux earning respect beyond measure among his peers. All of 21-years-old, Maddux was burdened with the responsibility of exacting a measure of revenge. When Benito Santiago came to the plate in the top of the fourth, Maddux had just recorded two strikeouts. He desperately needed to pitch more than 3.2 innings – especially since he'd already surrendered 5 runs. But Maddux dutifully drilled Santiago – and not in the face. He was immediately ejected.
Sutcliffe would later say that from that day forth, Dawson would make it a point to be sure he was in the lineup to contribute when Maddux started. Even if his ailing knees were begging for a day off, it was Andre's way of perpetually thanking Maddux for protecting his teammate on that day.
The Aftermath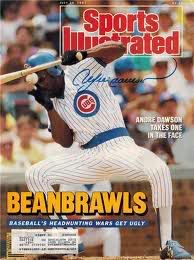 Sports Illustrated would feature a cover story shortly thereafter about the increasing number of brawls that was marring the game's reputation. Dawson's grizzly beaning picture became iconic.
Dawson would miss two games, and be back in action on July 10th. He played in the All-Star game a few days later, and didn't seem to miss a beat from that horrific event. His best game that season was likely an August 1st tilt against the Phillies in which he accounted for all 5 Cub runs in a 5-3 victory; he hit 3 HRs that day. Though Dawson's five remaining years as a Cub weren't nearly at that same unbelievable 1987 level, he remained a feared hitter. Lou Piniella, while managing the Reds in 1990, intentionally walked Dawson a record 5 times in a 16-inning Cubs 2-1 win. He was truly a most feared hitter.
Show would deteriorate after a decent 1988 campaign. His Wikipedia page and multiple career retrospectives chronicle his many struggles. Dying at a young age, while tragic, wasn't especially unexpected. He had an infamous incident with the police during Spring Training before his final season in the league. Some teammates called him brilliant, but he often exhibited behavior that belied that assessment.
What do I remember about that game? Well not a lot, except that as a 6-year-old I was righteously indignant that someone would throw at any of my beloved Cubs – especially Dawson. I remember yelling for my Mom to come and see what happened – much like I would two years later when the earth quaked during the World Series. But most of all, I remember. Memories as at such a young age are few and far between; so many of mine are similar in one way, they relate somehow to baseball and my Cubs.
Like what you see here? Never miss new content. Follow Us: