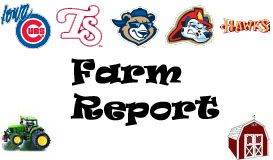 Instead of looking at some minor league leaders today, let's take a look at the players likely in the lead for a call up in 2012. First, we'll start with players that are currently on the 40-man roster. These guys have an easier chance of a call up than players not on the 40-man:
Jeff Beliveau – LH RP – Age 25 – AAA
Beliveau has always been interesting to me. I prefer pitchers that can strike guys out so they don't have to rely on the defense as much. Beliveau has not had a season where he's struck out less than 10 batters per 9 innings pitched. He gets his K's more with deception than with velocity, as his fastball will touch 90, but not much higher than that. He still walks more than you'd like, but he will probably be an asset in the bullpen for a couple seasons.
Alberto Cabrera – RH RP – Age 23 – AA
He's only in AA, but he is on the 40 man, so there is a chance we see him. Back in Spring Training, Keith Law tweeted:
Cubs RHP Alberto Cabrera just threw two fastballs at 96 and 97 with plus sinking life
Moved to relief this year, Cabrera may have found his calling. As a starter, he was more a 6 – 8K's/9 kind of pitcher, but this year that's jumped to nearly 12 K/9 and a career best walk rate.
Welington Castillo – C – Age 25 – AAA
We've already seen Castillo and we'll probably see him again when rosters expand, unless the Cubs find a trade partner for Geovanny Soto. Castillo now has 156 career games played at AAA with this line:
270/344/494, 30 doubles, 30 homers, 105 RBI.
Adrian Cardenas – IF – Age 24 – AAA
Another guy we've seen and one we'll likely see again, Cardenas has never hit worse than .295 in any of his 7 minor league seasons. He doesn't have any power and he's not good defensively, which is probably a reason Sveum didn't play him too much, but he can make contact. Future utility player.
Junior Lake – IF – Age 22 – AA
Lake is one of the more polarizing players in the Cubs system. The optimistic see a shortstop that can hit 15 homers, steal 40 bases, and remind people of Shawon Dunston's arm. The pessimistic see a player with no clue on defense and a terrible approach at the plate which may lead to a move to the pitchers mound where they will try to utilize that arm.
I don't think we'll see him this year as he's still got too many holes in his game; in particular defense and his baserunning has taken a step back from 2011.
Josh Vitters – 3B – Age 22 – AAA
Seems like Vitters has been around forever, but he is just 22 years old and is enjoying the best season of his minor league career. Recently named to the PCL All Star team, Vitters is hitting 301/353/512 and has a chance to crack the 20 homer mark for the first time. Word is that his defense has improved enough to be passable at third until something better comes along. Vitters developing into an everyday player will be a boon to the organization. We should see him when rosters expand and there is an outside chance he is the Cubs everyday 3B in 2013.
Dave Sappelt – OF – Age 25 – AAA
Sappelt came over in the Sean Marshall trade and looked to be a solid player after hitting 342/395/507 in 2010 and 313/377/458 in 2011. He's struggling in 2012, and some people even want to write him off because of this bad half-season. But he's still walking a good amount, not striking out a lot, and has a low BABIP that is keeping his numbers down. I still see a good  4th outfielder in the mold of Reed Johnson, and everyone seems to love them some Reed Johnson.
Those are the players that are on the 40-man roster. You'll notice there is no Brett Jackson, so let's take a look at three others that may make an appearance in Chicago, but there will have to be some roster shuffling to get them on the 40 man.
Chris Rusin – LH SP – Age 25 – AAA
Rusin was briefly rumored to get a spot start for Ryan Dempster before the Cubs decided on giving Randy Wells one last chance. He's a control pitcher, but he's walking a career high and striking out a career low so far in AAA. I really don't see Rusin as all that good of an option. He seems to be in the Casey Coleman and Randy Wells league and I'd still prefer to give Chris Volstad the opportunities in the future.
Jay Jackson – RH RP – Age 24 – AAA
Jay Jackson is another guy that seems to have been around forever. Drafted in the 9th round in 2008, he looked like a steal by making it to AAA in his second season while posting ERA's under 3.00. But it was a big step back in 2010, another step back in 2011, and yet again this year before moving to the bullpen and finding his strikeouts again. In 26 innings in relief, Jackson has struck out 32 and walked 9 while putting up a 1.73 ERA.
Brett Jackson – CF – Age 23 – AAA
I'm growing more pessimistic by the day with Brett Jackson. I just don't see how a guy that strikes out in 1/3 of his plate appearances against AAA pitching is ever going to make enough contact against Major League pitching. Even the players everyone likes to make fun of for striking out so much, like Adam Dunn or Drew Stubbs or Mark Reynolds, have had MUCH better strikeout rates in AAA than Jackson does. A serious adjustment is needed and him being a bust would be as big a hit to the organization as Vitters succeeding would be a boon.
Like what you see here? Never miss new content. Follow Us: