Tuesday, June 26th, 2012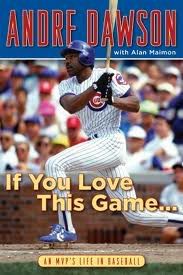 Let's get a few things clear here: if for some inexplicable reason you don't like Andre Dawson, it's probably best for you to stop here. If you don't like to read, gold star for making it this far – you're excused. If you're not a Cubs fan, this book probably isn't as compelling as it will sound. But if, perchance, you count yourself a fan of Dawson, reading, and the Cubs (not necessarily in that order) allow me to persuade you that Andre's latest book is more than worth your time.
I'm going to skip some of the usual 'Who is Andre Dawson?' stuff. I'm assuming you're aware that Dawson is a former Cub and Hall of Fame rightfielder who patrolled Wrigley in the late 80s and early 90s. His latest book, If You Love This Game, chronicles his life specifically in relation to baseball. Andre had teamed with Tom Bird on a similar project in the mid-90s; this offering clearly brings greater perspective from a man who hasn't played a game in more than 15 years.
Dawson recounts his life as a boy in South Florida being raised by a village of family members, while himself helping to raise his younger siblings. He discusses some of the difficulties he dealt with as baseball took him farther and farther away from home at an incredibly young age. At my age, I vividly remember Dawson's days as a Cub. But Andre details the highs and lows of every season he spent on a major league roster.
If You Love This Game is wrought with lament for the seasons that, in his opinion, ended prematurely. Whether it was with the Expos, Cubs, Red Sox, or Marlins the years that pained Andre most were almost exclusively the most successful from a team standpoint. His insightful memories only made me appreciate former Cubs even more; to play for so many years, never sniff a World Series, AND not regret picking Chicago – as a fan I definitely appreciate that sentiment.
Making special note of the friendships he forged during his years in the game, it's easy to see why Dawson was widely loved by teammates. He's also proof that perceived 'shortcomings' are sometimes intentional products of a player's confidence. He talks about how even as early as 1983 he knew that he was more confident and deadly as a free swinger – he essentially resolved to NOT work the count. It's good to remember that no player is 'perfect' – even HOFers – and sometimes what makes them so great can be mistaken by observers as an area for improvement.
Andre is candid about his personal life, times he felt mistreated by his employers or friends, even situations which he should've handled differently. Larry Himes, franchise antagonist, draws some of the Hawk's sharpest criticism. For two-plus pages we get a glimpse into the vindictive nature of the worst GM in baseball history.
There are countless stories about various players with whom Andre shared a uniform. A great one about Sammy Sosa buying a suit on Dawson's dime – 100% silk, the most expensive suit in the store! And you'll surely be surprised about some of the players for whom Andre has great respect and admiration. Steroid allegations notwithstanding, several of baseball's bad boys are lauded by Dawson a good human beings – whether they always exhibit it publicly or are known as such.
But most obvious to me was how central to his life those years in Chicago were for Andre. It was only six years, but circumstances in and around his life clearly made it a momentous time for Dawson. Though we're prone to forget it, even baseball players deal with everyday struggles just like anyone else; it can affect them at work just like anyone else.
I would highly recommend the book to fans of baseball, Dawson, the Cubs, or even just prolific readers. It's pleasant, enjoyable, and authentic.
Like what you see here? Never miss new content. Follow Us: