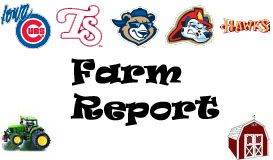 Anthony Rizzo had a good Cub debut, knocking in the game winning run with a couple of hits. Randy Wells wasn't so good and I wouldn't be shocked if last night was the last time we'll see Randy Wells make a start for the Cubs this season, if not forever. So who will take that spot until Ryan Dempster comes back (then take it again when Ryan Dempster is traded)? While the Cubs have a handful of good position prospects, the pitching side of the farm is severely lacking. Here are the pitchers in the upper levels with at least 40 innings thrown: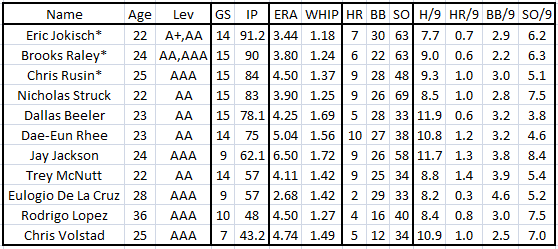 There are a few young guys that the Cubs won't rush. Erick Jokisch is having a good year and was recently promoted to AA. He joins Nicholas Struck, Dallas Beeler, Dae-Eun Rhee, and the pre-season top pitching prospect Trey McNutt in the Tennessee rotation. McNutt has taken a step back since his breakout 2010 season with a career low in K/9 and a career high in BB/9. Beeler and Rhee don't aren't missing enough bats to warrant any excitement either. Stuck might be the best of the starters in AA going forward.
In Iowa, Chris Rusin was rumored to be in the running for a start this week and may be the next farmhand we see in the rotation. I think I'd prefer to see Brooks Raley as he appears to have a bit more swing and miss in his pitching. Jay Jackson seems to have been around forever. He is striking out the most batters but he's also giving up a lot of hits and home runs, leading to an ERA of 6.50. De La Cruz is just organization filler, which leaves us with the familiar in Chris Volstad and 36 year old Rodrigo Lopez. Lopez may get some time in Chicago because the Cubs simply have no good options.
The pitching cupboard is bare my friends. Theo/Jed and company made an effort to remedy this by drafting pitcher after pitcher after Almora earlier this month and I think they'll add more when a trade or three is made in the next month. We'll likely see the Cubs 2013 top pitching prospect arrive in a deal for Matt Garza. Until then, we get to look forward to Chris Rusin and maybe Rodrigo Lopez.
Maybe Anthony Rizzo can pitch….
Like what you see here? Never miss new content. Follow Us: