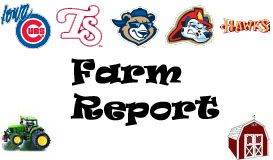 Last week, we looked at a few of the exciting prospects on the Short Season Boise Hawks. This week, we go even further down the road to Arizona, where the Cubs' Arizona League rookie team started play last week. The hardest of the Cubs' U.S. based minor league teams to follow (they do not even really have their own website), the team will get significantly more exciting as some of the recent draftees make their initial pro appearances as the summer moves along. Before they do, though, a trio of interesting 2011 draftees highlight the roster.
Dan Vogelbach (1B)- Many Cub fans had visions of our own Prince Fielder dancing through their heads when the Cubs drafted Vogelbach in the second round of the 2011 draft. Listed at 6′, 250 pounds, Vogelbach is a big boy and had a well deserved reputation for prodigious power from the showcase circuit. Vogelbach's size was going to be an issue, and even if he stays in shape it's unlikely he is going to be more than an average defensive first baseman. As a result, his value is going to come from the bat. The problem with Vogelbach this spring and in extended spring training was that the approach at the plate did not appear as advanced as many scouts expected. You just have to hit so well to be an above average first baseman, that the issues with the swing are a concern. With that said, there is a ton of power in that bat. For the moment, he has almost certainly slipped out the Cubs' Top 10 prospects, but could slide right back in with a strong end of 2012.
Dillon Maples (RHP)- This is kind of cheating, since Maples is not actually pitching yet. The news out of the minor league teams is harder to come by, especially at the very low levels, so it is hard to tell if Maples is dealing with injuries or the Cubs are more working on his off speed pitches and tinkering with his pitching motion. As a draftee, he reportedly essentially did not have a change up and, despite being an athlete, had a pretty unathletic throwing motion. Considering the Cubs lack a truly top tier pitching prospect, though, Maples is for all intents and purposes tied for the Cubs' top pitching prospect with Trey McNutt and Pierce Johnson.
Trevor Gretzky (1B/OF)- The Great One's son was one of the Cubs' later round overslot signings last year. Much like Shawon Dunston, Jr., many thought Gretzky might be better suited for college than pro ball at this point. Gretzky showed good contact skills and drew some walks in extended spring training, but hit for absolutely no power. He's very thin at 6'4″, 190 pounds, so he has time to grow into his frame. However, Gretzky is someone who is going to take some time to grow into whatever sort of player he is going to become.
Others to watch: SS/2B Carlos Penalver, OF Garrett Schlecht, and all the 2012 draftees. Also, just for a fun piece of news, the Arizona Cubs' hitting coach is Jason Dubois.
Like what you see here? Never miss new content. Follow Us: