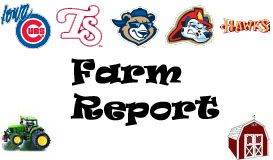 If you follow the minor leagues, you may have heard how some leagues are "pitchers leagues" and some are "hitters leagues". Included below in the team leaders are the league averages. The raw numbers tell you a little about a player, the numbers relative to the league they play in tell you a little bit more. Matt Szczur might have a higher OPS than Arismendy Alcantara, but the latter's age, relative to the rest of the league, makes his offensive performance a bit more impressive than Szczur's.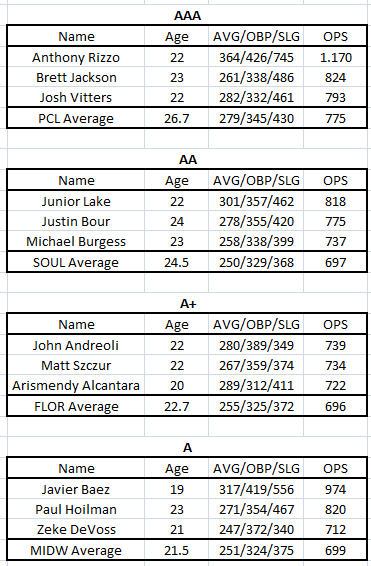 As you can see, Iowa plays in quite the hitters league, with an average OPS of 775. In fact, that is the highest of any of the minor leagues. So while it's nice that Josh Vitters has nearly an 800 OPS, he's basically a bad game or two away from average. On the plus side, he's significantly younger than the average AAA player. These are a couple of factors that people seem to leave out of their analysis and is also a reason why I, for one, am not ready to give up on Josh Vitters being a big league regular.
The average age could be a bit misleading, however. For example, AAA has a number of 30+ year old men to skew it on the high side. Also, guys like Peoria's Paul Hoilman is also skewing the average age for the Midwest League by playing there instead of Daytona. And that would be one reason why Hoilman isn't really much of a prospect.
Three players on this list, not including Anthony Rizzo, intrigue me:
Junior Lake is having an excellent season in AA, at the plate anyway (he's struggling in the field and on the basepaths this year). What I like most is the career best walk and strikeout rates. If those continue to hold, he's got a future in Chicago at some yet to be determined position, be it third base or perhaps right field, where he can showcase his arm.
Kevin Goldstein recently commented on Arismendy Alcantara saying he has the tools to stick at shortstop, has plus speed, and described him as a line drive hitter with a quick bat. Scout see him as a utility player at the least, with the chance to be an everyday guy. I'm a big fan of his performance as he is the 8th youngest player in the Florida State League.
2011's top draft pick, Javier Baez, is crushing the ball down in Peoria. It's a small sample, but there has been a lot of hype about his power and quick bat. He's also showing some speed with 7 stolen bases without being caught, in only 18 games. He's still playing shortstop, but a move to the hot corner is likely in his future.
So, anyone in particular impressing you? Besides Anthony Rizzo, of course.
Like what you see here? Never miss new content. Follow Us: