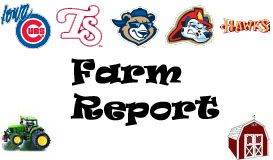 The biggest knock on the Cubs' farm system coming into this season was that, aside from Anthony Rizzo and Brett Jackson, the real high ceiling talent was in the very low minor leagues. A quick look through our own preseason Top 20 had eight players who had not played above a short season league prior to the start of the season. While Javier Baez's call up to the Peoria Chiefs added a major infusion of excitement and talent to the Low A squad (he is currently hitting .317/.419/.556), I would argue that the Boise Hawks' roster top to bottom is the most exciting in the system, particularly on the offensive side of the ball.  While they do not have a truly top tier prospect like Baez, they do have several players who could easily find their way into organization Top 20s, and perhaps Top 10s, with strong showings in the Northwest League this season. Below are just the three Hawks that I think are most interesting to start the season.
Jeimer Candelario (3B)- Candelario is my current top prospect on the Hawks. Following a great Dominican Summer League performance last season (.337/.443/.478), Candelario was expected to spend his age 18 season with the Arizona Cubs. Following a solid showing in extended spring training (.308/.368/.481), though, the Cubs decided to send him straight up to Boise. Especially considering his young age, Candelario, who is a switch hitter, has shown impressive patience at the plate and power. There are questions regarding whether he will be able to stay at the hot corner long term, but Candelario is one of the higher upside hitters in the Cubs' system.
Marco Hernandez (SS)- Hernandez started the season with Peoria, where he followed a horrid April with a much better May. Hernandez was sent down at the end of May, though, when Baez was called up to the Chiefs. My guess would be that it was always the plan to have Hernandez come down when the Cubs were ready to have Baez make his full season debut, since the Cubs will allow Baez to play shortstop until he proves he cannot and so much of Hernandez's value is tied up in his ability to play shortstop. On that note, Hernandez is likely the best defensive shortstop in the Cubs' minor league system. Hernandez has shown some ability to get on base and above average contact skills, but it is his defensive ability at shortstop that makes him a real prospect.
Shawon Dunston, Jr. (CF)- Dunston, the son of the former Cub and 1982 No. 1 overall draft pick of the same name (aside from the Jr. part, of course), was the Cubs' 11th round pick last season and was one of a handful of later round players the Cubs signed for well above slot value after last year's draft. Defensively, he should be able to be a plus center fielder, with plus speed and a strong arm, the latter of which at least you'd expect considering who his dad is. He was considered fairly raw for a draft prospect who had a father who played in the MLB, and at least Keith Law thought he would have been better served by playing college ball at Vanderbilt. But Dunston put up pretty strong numbers in extended spring training (.295/.339/.466), with the power being the pleasant unexpected surprise. Baseball America, though, did note that the Cubs believe Dunston will develop average or better power in time.
Other players to watch include 1B Roderick "Rock" Shoulders (and for more than just the name!), SS/2B Gioskar Amaya, LHP Wilengton Cruz, RHP Tayler Scott and RHP Hayden Simpson (if only to see the train wreck continue).
Like what you see here? Never miss new content. Follow Us: