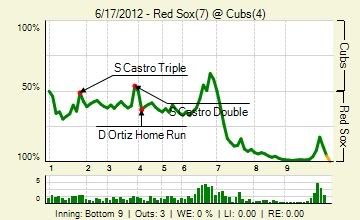 Red Sox 7 @ Cubs 4
Box Score / Highlights / Condensed Game
Franklin Morales: Making a spot start for Josh Beckett, everyone knew Morales wouldn't be pitching deep into the game. Morales needed to be efficient, and the Cubs were happy to oblige. Throwing only 80 pitches in 5 innings of work, Morales was able to strikeout 9 Cubs – seemingly all on pitches out of the zone. The box score says he only threw 15 balls, but in truth Morales made a living out of the zone. It was a lineup epidemic, no one was immune. Apparently, 'get to the bullpen early' wasn't part of the gameplan.
Starlin Castro: A HR short of the cycle, and the only real threat in the lineup tonight. He also made an 8th inning error that led to a run (must…not…antagonize).
Pitching: Paul Maholm was decent, Shawn Camp was awful, James Russell was only slightly better, and Jairo Asencio just doesn't look like he belongs in the big leagues. Your 2012 Cubs!
Heading To The South Side: The next three games provide another opportunity for Soriano to reclaim his natural position of DH. With reckless rampant speculation that the ill-tempered Anthony Rizzo is poised to join the Cubs by the end of the month, perhaps we'll see LaHair trolling the outfield at the Cell. (There was some lots of sarcasm in that paragraph; I'll let you figure out where).
National TV Games: I'll try to walk this line as best as possible. It's not just the ESPN Sunday Night broadcast, it's virtually any nationally televised game. Long gone are the days when most people only received a single televised baseball game every week – but you wouldn't know it from watching a national broadcast. The Sunday Night crew spent large portions of their broadcast rehashing old headlines that largely had zero bearing on last night's game. I'd almost rather have Joe Morgan back, making up more stories in which he's the hero; ALMOST! It's mid-June, there was an NBA Finals game on at the exact same time as the ESPN Sunday Night game – I'd venture a guess that not many people were tuned in and clueless about who Theo Epstein is and what move he made during the offseason – it's a Red Sox-Cubs game! This isn't the NFL; ESPN Sunday Night Baseball doesn't have an overwhelming amount of casual fans tuning in.
Like what you see here? Never miss new content. Follow Us: