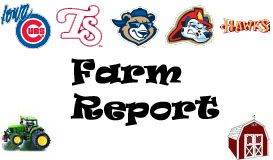 This week the Cubs finally added Cuban outfielder Jorge Soler to the organization and he brings with him a much needed infusion of power. Soler hasn't seen a pitch, but once Anthony Rizzo graduates to the majors later this year, he'll be in the discussion for the best power hitter in the system. The leaders in ISO (basically, how good is he at getting extra base hits? .250 is usually considered 'excellent', .180 is 'above average'):
"Not much" is the theme with the farm system.
Anthony Rizzo is just a beast in AAA. In 650 AAA plate appearances, he has 46 homers and 49 doubles.
At his current pace, Brett Jackson, in 650 plate appearances, would strike out 198 times. Remember, that's against AAA pitching. He might have a hard time just hitting the ball.
Nelson Perez and Luis Valbuena are non-prospects, so that leaves Josh Vitters and Paul Hoilman as the only others in the "above average" range. Vitters will be a big leaguer one day, but he might only be a Jeff Baker replacement.
Hoilman had a long hitting streak earlier in the season and tops the list in doubles. But he's a bit old for the league he plays in and strikes out in over 30% of his plate appearances. Not going to go too far.
When Rizzo joins the Cubs, he leaves the farm system barren of a true power hitter. A year from now, I think we'll see two new names at the top of this list, Jorge Soler and Javier Baez (who is at .191 right now after 54 PA).
Like what you see here? Never miss new content. Follow Us: