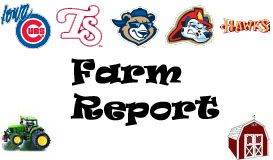 Prior to taking our brief break to cover day one of last week's draft, over the past few weeks we looked over highly ranked Cub prospects who failed to meet expectations, and some who have met or exceeded those expectations. This week, we turn our focus to pitchers who were not considered significant prospects at the start of the season, but might be playing their way into prospect status.
Michael Jensen, Peoria Chiefs (RHP, 21 years old)
12 G, 12 GS, 66 IP, 2.32 ERA, 3.40 FIP, 7.23 K/9, 3.14 BB/9
Any list of the pleasant surprises among pitchers in the Cubs' farm system has to start with Jensen, the Cubs' 26th round pick in 2011. As Norm mentioned a couple of weeks ago, the Cubs' minor league system lacks pitchers with strikeout stuff.  While a 7.23 K/9 is not exactly dominant, when you pair it with the fact that his K/BB ratio is well over 2, this is Jensen's first full professional season, and that most guys drafted in the 26th round are clearly organizational filler from the day they step on a professional baseball field to the day they decide to do something else for a living, this is an impressive performance by the 21 year-old. He has also only allowed 2 home runs this season. He probably cannot maintain the .233 BABIP against, but even if that comes up he's still a very solid starter.  It would not be a surprise to see Jensen firmly entrenched in the back half of some Top 20 organizational prospect lists at the end of the season.
Kyler Burke, Peoria Chiefs (LHP, 24 years old)
14 G, 9 GS, 67.2 IP, 2.13 ERA, 3.38 FIP, 6.38 K/9, 2.66 BB/9
If Kyler Burke sounds familiar, it is probably because a few years ago he was a fairly significant outfield prospect for the Cubs, getting some notice in the back end of some organizational Top 10 lists. Burke had a lot of power and a incredibly strong arm, but was not able to do enough otherwise to stay a hitting prospect. So the Cubs turned that powerful left arm into a pitcher. The conversion means that Burke is quite old for the league, but for a guy who has only been pitching for two years to have a BB/9 under 3 is pretty impressive. As Burke moves up I would bet he moves into more of a left handed reliever role again, but the strength of his arm cannot really be overstated.
Austin Kirk, Daytona Cubs (LHP, 22 years old)
12 G, 11 GS, 72.2 IP, 2.72 ERA, 2.99 FIP, 5.45 K/9,  2.23 BB/9
Austin Kirk is going to be the starter on the North Team for the Florida State League All Star Game, but a deeper look into his stats shows more of a mixed bag for me.  Of course the 2.23 BB/9 is a great rate, but Kirk does not strike out a lot of hitters. You can get by with a low strikeout rate, but you usually need to induce a lot of ground balls to do that. But Kirk is a fly ball pitcher, inducing more fly outs than ground outs. The key to his success this season has been allowing only 1 home run, but it's hard to see a fly ball pitcher being able to continue allowing round trippers at such a minuscule rate as he moves up the system. Like many of the Cubs' current pitching prospects, he may end up being more likely to be a reliever.
If there is anyone you think I should have discussed, please feel free to mention them in the comments. Next week, I will look at the surprise position players.
Like what you see here? Never miss new content. Follow Us: