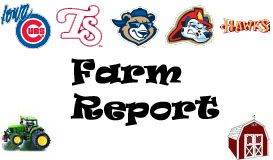 ---
Last week we were pretty focused on the MLB draft and the restocking of the system. As a result, we deviated from the regular schedule a little. It's time to get back on track with a look at the state of the system from an outfield perspective.
I've written about it a little over the last few days, but I wonder how many of the current players on the active roster will be here in two years. I'm beginning to think that it will be very few. Starting our look at the system with the big league team, we have seen a pleasent surprise when it comes to the resurgence of Alfonso Soriano. Since shifting to the lighter bat, Soriano has been hitting the ball quite well and has the numbers to begin to entice teams, especially those of the AL variety, that maybe he may be worth acquiring should the price be right. Essentially he has been our offense of late. He's not in the future plans so you have to look at two of the other three guys. Tony Campana is beginning to show exactly what he is, a slap hitting speedster that plays good defense. That's a cool weapon to have, but is that really a guy you can put in the lineup day in and day out? I don't know that it is. He definitely has a role on this team, but I don't see it as a starter. David DeJesus is a system guy that plays the style that Jed and Theo want in the lineup right now. He works the count and makes good contact. He plays good defense and he's inexpensive. I like him and I think he has a role on the team. The question as to if he would want that role to be a bench player will still be seen.
Brett Jackson is the guy people have followed all season. He's the savior in CF, but people are growing frustrated at what seems to be a lack of plate discipline and propensity to strike out too much. I'll admit, it concerns me too. Looking at his trends, you'll notice his strikeout rates and walk rates and not come away encouraged.
What I am encouraged by is the fact that the power we saw in AAA last season after he was promoted, for the most part, has remained there. A look at the Isolated Power numbers reveals that trend compared to what we saw at the AA level last season. I've not given up hope on Jackson's prospects to become a Major League player. In fact, I've not even lost hope that he can be an impact player in the majors. I've just curbed the expectations a little when it comes to the estimated time of arrival at Wrigley. What looked like a potential to make the team out of spring appears more likely now to be a September call up.
James Adduci is a guy I've been following / rooting for. He's a hometown guy from Evergreen Park, IL and was drafted in the 42nd round of the draft way back in 2003. These are the guys that are drafted as system filler, and for the most part that's exactly what he is. You just can't help but be glad when they do well and hope they one day get a chance to at least experience the Major Leagues. For Adduci, he's trying to eclipse what his father, Jim Adduci, did in the Majors in limited time. The thing he has on his side is his versatility. He can play all three outfield positions and even has some experience playing first base. For a guy that is just trying to get there, versatility is key.
Questions for Discussion
Given the struggles of both Brett Jackson and Matt Szczur, which do you have higher expections for and what are your expectations for each?
I mentioned the fact that I'm rooting for Adduci to make it. Aside from Jackson and Szczur, is there an outfielder in the system you're rooting for?
If he was given 650 plate appearances at the Major League level (god help us), what would you project Tony Campana's stolen base totals to be?
Like what you see here? Never miss new content. Follow Us: