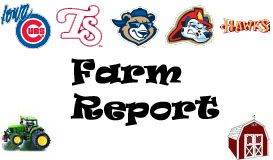 The strategy in this years MLB draft appears to have been, not surprisingly, to stock up on pitching. After selecting center fielder Albert Almora with the sixth overall pick on Monday the Cubs drafted seven pitchers in a row. Most of these picks were of the "high ceiling" variety, and with the signing deadline being about a month sooner (July 13th this year) we'll get to see some of these guys in action and get a first impression. How many of them will fall into VFTB's Top 20 prospects next year? Based on the state of the Farm System, it may be quite a few. Here is how the Top 20 of 2012 are performing to date: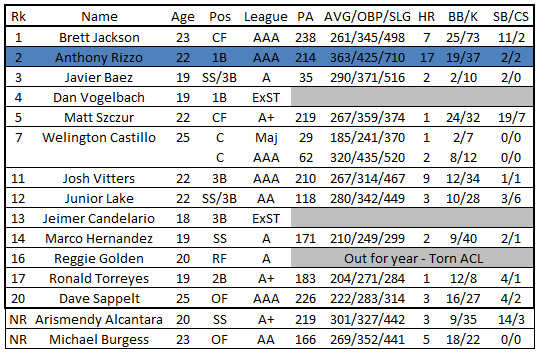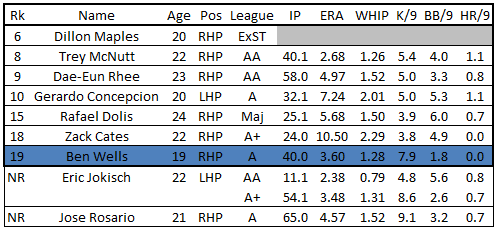 As I said a few weeks ago, ugly. Theo/Jed/Jason really only have one way to go here.
I highlighted both Anthony Rizzo and Ben Wells as they would be my choice for the current best hitting and pitching prospects in the system.
Keep your eye on the Peoria box scores as Javier Baez is showing the bat speed and power that got him drafted #8 overall last year. He's also showing some immaturity. He ignored the coach's take sign, swinging at a 3-0 pitch in a blowout, and earned a pitch to the ribs on the next throw. He was benched to start the next game but had to come in as an injury replacement and homered on the first pitch he saw over the batters eye in center…at least 420 feet out.
There is nothing really new to say about any of the other guys, so I included a couple of hitters and a couple of pitchers that weren't ranked in the Top 20 that I find interesting this season.
Michael Burgess because of his drastic reduction in strikeouts. Last year he had 111 K's in 495 plate appearances. This year, he's on pace for 67 in the same about of PA.
I'm partial to players who are young for their league. Arismendy Alcantara is one of the youngest players in the Florida State league at 20 years old, but is showing he can hold his own offensively. The 301/327/442 line doesn't do him justice; the league average is only 255/324/373.
I'm also partial to strikeout pitchers. Eric Jokisch put up a career best 8.6 K/9 before being promoted. He was an 11th round pick in 2010 and might be the first Cub draft pick to reach the majors.
Jose Rosario is inching his way up the system. He's been with the organization since 2008, is playing in his first full season league, and already has a career high in innings pitched. Slow and steady!
Like what you see here? Never miss new content. Follow Us: