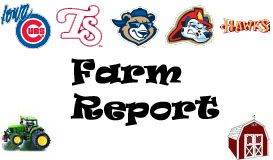 "As an organization I think our pitching depth is one of our biggest concerns," Hoyer said. "We don't have a ton of arms in the minor leagues. I think the best organizations are just littered with power arms. Some guys will become starters, some guys will become relievers but the best bullpens are built internally.

"The more we can add those kind of arms during the draft the better. That will be a focus, not just in 2012 but every year. It is a little bit of an organizational hole so our ability to close that will be really important."
Pitching depth, power arms, bullpen built internally. Sounds fantastic. Hopefully that means no multi-year free agent deals to relief pitchers. So who might we see in Chicago one day? These guys aren't necessarily "power arms", but striking guys out is one of the qualities I assume Jed looks for in those power pitchers, so here are the strikeout leaders per 9 innings, minimum 25 innings, no pitchers over age 27 included, cuz I just don't care about them:
Matt Loosen tops the leaderboard with 31 strikeouts in 31.1 innings of work. He's a bit old for the league, so it's wait and see how he does as he climbs the ladder. 8.9 isn't a very high number to be an organization leader. There are HUNDREDS of minor league pitcher that have higher K rates than 8.9.
Getting his first taste of full season baseball, Jose Rosario would be 21 out of 24 in hits allowed. His age, BB/9, and K/9 all look solid, but he's light years away.
Travis Wood, like Rosario, gave up a lot of hits, but maintained solid BB and K rates before being promoted to Chicago. With a better defense on the big league team, could be here for good. I think he'll be a 4th starter for a few years which is a good return for 70 innings of Sean Marshall.
Jeff Antigua is a relief pitcher I think we'll be seeing in 2013 at the earliest.
Recently promoted to AA, Eric Jokisch is a starter worth following as he faces better players.
Two years ago I opined that Casey Coleman would never make it because he couldn't strike out enough minor leaguers. I don't know what's changed, but he's gone from 4.5 K/9 in 2010 8K/9 last year in the majors and this year in the minors…small sample size and all, but I'm curious to see how performs.
And that completes the list of minor leaguers that can strike out at least 8 batters per every 9 innings. The cupboard is pretty bare.
Noah talked about Ben Wells yesterday. I wanted to add one more link to the story, Adam Foster at Project Prospect listed Wells as one of seven "Elite" teenagers in full season leagues. Longs ways from Chicago as he is just 19, but he just might be the Cubs best pitching prospect right now.
That may change come Monday when the Cubs make the 6th pick of the draft.
Like what you see here? Never miss new content. Follow Us: