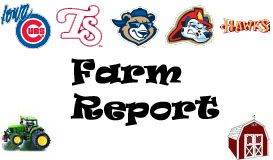 Last week we went through the depressing task of looking through some of the significant number of Cub prospects who have been pretty significant disappointments this season. It was so depressing, that the only comments in response to it were a debate about if Josh Vitters was in fact Iowa's most disappointing prospect, or if Brett Jackson's season was in fact more depressing. This week we try something a bit more optimistic: the Cubs' top prospects who has impressed the most this year. Unfortunately, the vast majority of these players have had significant flaws of one sort or another in their play this season.
Triple A- Anthony Rizzo (1B)
There are very few prospects that made our Top 20 list to start the season to have unequivocally impressive seasons to start the 2012 season. Of that small list, Anthony Rizzo has by far been the best. In case you've been living in a cave or desperately been trying to forget anything related to the Cubs' 2012 season, the Cubs traded right handed pitcher Andrew Cashner for Rizzo this offseason. In the Padres' organization last season, Rizzo destroyed the Pacific Coast League with a .331/.404/.652 hitting line, but struggled upon being called up to the Majors. Tucson, the Padres' Triple A affiliate, is one of the best hitters' parks in all of baseball, and apparently Rizzo got into some bad habits there that were exploited by major league pitchers.
Rizzo is posting even better numbers against the PCL this year, hitting .354/.416./.713. On top of the numbers, Rizzo reportedly has fixed the issues with his swing, and is even looking better against left handed pitchers. Like many young left handed hitters, facing off against same handed pitchers had been a weakness throughout the minors for Rizzo. While we rated Rizzo as our number 2 prospect in the system to start the season, he would almost certainly have passed up Brett Jackson for the number 1 spot if we voted again now. At this point, the only thing keeping Rizzo away from Wrigley is service time and the hopes that Alfonso Soriano will play well enough to develop a trade market for his services.
As a note, Rizzo left Sunday's game with some wrist soreness, but all indications are that this was a very precautionary move more than anything serious.  He is currently day-to-day, and sat out Monday's game against Memphis.
Double A– Junior Lake (SS/3B)
Last week, I rated Trey McNutt as the Smokies' most disappointing prospect from the Top 20 list despite an ERA under 3, largely because none of the other top prospects had been that disappointing and McNutt has issues even reaching the fifth inning in many games. But while the prospects on the Smokies' roster have not per se failed, they also have not exactly impressed. So Junior Lake, who missed the first month of the season, takes the prize.
Lake, our number 12 prospect to start the season, has been known as a guy with big tools but without a lot of baseball skills. In particular, he was known to have a pretty horrible approach at the plate. In just 87 plate appearances (through Sunday), Lake has shown a much higher walk rate than at any point in his career. In his time with Tennessee last season, Lake posted a walk rate of only 5%. This season it is at 11.5%. He has also decreased his strikeout rate a few percentage points.
The problem is that eight of Lake's ten walks happened in the first seven games he played in this season, and he has played in nineteen games through Sunday. As such, as of right now we are just dealing with a small sample size and need to take a wait and see approach with Lake. If he has improved his approach at the plate, he could become a big time prospect. But it is far too early to know if that is the case.
High A- Matt Szczur (OF)
Matt Szczur's 2012 season has been a tale of two months. In April, Szczur did essentially nothing offensively but walk and steal bases, posting a .242/.351/.337 triple slash and stealing 13 bases in 16 attempts. Szczur has been better with the stick in May, hitting .296/.363/.432 in the pitching friendly Florida State League.
Szczur was our number five prospect to the start the season, and aside from jumping Dan Vogelbach due to the young first baseman's disappointing extended spring training stint, has not improved his standing. He also probably has not hurt his standing. Szczur is still really a bundle of potential. If he can continue posting numbers like he has this May, he can be a starting center fielder who can play great defense, hit for some doubles power and cause havoc on the base paths. If he cannot, he becomes a defense and speed oriented fourth outfielder.
However, at nearly 23 Szczur is old for the more highly considered prospects in the Florida State League. We honestly will not be able to learn that much more about him until we see what he can do in Double A later this season. As far as the scouting gurus are concerned, opinion is still divided. Baseball America loves him, while Kevin Goldstein and Keith Law think he will be limited offensively due to a slappy swing.
Low A- Ben Wells (SP)
A brief look at Ben Wells' 2012 statistics would lead you to believe that his season has been decent but nothing special, with a 3-2 record and 4.15 ERA. The advanced stats, though, show a much stronger season. In 34 and 2/3 innings, Wells has allowed only 38 hits and 7 walks while striking out 29. He has not allowed a single home run, and has a strong ground out to fly out ratio of 2.55. As a result, his fielding independent pitching is a strong 2.31. The mystery is that Well was moved out of the rotation for the Chiefs, and now acts in a long relief role. While long relievers get much more, and more important, work in the low minors than they do in the majors, Wells is one of the most promising pitchers on the Chief's staff.
Extended Spring Training- Javier Baez (SS)
It is difficult to get regularly updated stats from extended spring training, but all reports indicate that Baez has done everything but take walks and play good defense in extended spring training. He has hit for contact and power, and Cub fans should look forward to tracking his progress now that he has been promoted to Peoria.
Next week, we will look at some pleasant surprises who were more under the radar to start the season.
Like what you see here? Never miss new content. Follow Us: